Review: 3 financial tracking apps for busy contractors
It's important to keep track of your projects' time, expenses and invoicing. Here are three apps that could help.
Productive Monkey Ltd.'s OfficeTime is a time-tracking, expense-keeping and invoice-generating application for freelancers and self-employed contractors. It's not cloud-based, but is available for both Windows and Mac computers, and there is a free 21-day trial available to users to decide whether it meets their needs. If you like it, it'll cost you $47 for either version; this includes one free major upgrade.
I downloaded the Mac version of the software to a MacBook Pro running Yosemite.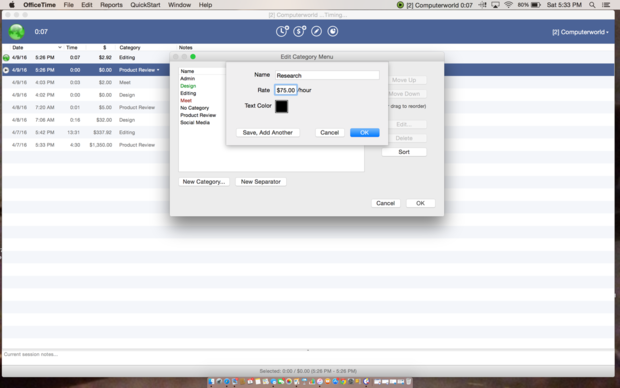 OfficeTime is based on a system of projects, categories, line items and a timer.
The install went off without a hitch. The user interface is basic and somewhat dated in design, but since it's meant to function in the background, it doesn't need to be flashy as long as it does its job well. And it does.
(Note: This product does have a slight learning curve, so it's a good idea to start with its short two-minute tutorial. Another informative tool to help users ramp up is the Tip of the Day.)
The basics
OfficeTime is based on a system of projects, categories, line items and a timer. A line item is a task and/or activity; you start the time (displayed as a red button) when you start working on that task. The timer will continue to run until you press the button again.
Categories designate what type of line item is being performed -- for example, you can categorize something as editing, programming or project management -- with its associated hourly rate. The line items can then be billable to a single project, or separate projects.
As a result, it's worth spending time setting up your projects and categories ahead of time and running a few tests. OfficeTime offers several standard category functions such as Admin, Meeting and Design, as well as the option for you to customize and assign different pay rates to each. You can also simply set up a project and then add line items to it, categorizing it as you go.
(Be aware, however, that these categories are not necessarily IRS-compliant, but are simply your own created categories.)
You can generate customized Quick Reports of projects, which can be exported as text files for invoicing. When it's time to invoice, you create a boilerplate and its design using OfficeTime's Quick Invoice Generator, which prompts you to designate whom the invoice is going to. It can integrate with contact managers such as iContacts, Google Calendar and Outlook, allowing you to go straight to your contact base to pull in a customer's data. You can also manually enter your clients' contact information.
Previous Page 1 2 3 4 5 6 Next Page