Review: 3 financial tracking apps for busy contractors
It's important to keep track of your projects' time, expenses and invoicing. Here are three apps that could help.
Now that tax time for 2015 is over, it's time to think about preparing for 2016 -- especially if you're an independent worker.
While the full-time job market for IT workers is, according to many industry workers, quite healthy, there are also those who choose the freelance life, either through necessity or preference. However, whether they operate under contract or job-by-job, there is at least one thing that most independent workers have in common: The need to deal with the business side of freelance work.
If you're an independent worker, chores like tallying up hours for several (possibly simultaneous) projects, adding up expenses and generating invoices are all tedious and time-consuming -- but necessary. And while you probably don't need the advanced features of a full business financial package, you can't make do with personal financial software either. You need an application that addresses your specific business model, that's easy to learn and use and, ideally, able to integrate with major accounting and tax prep software.
Here are three packages that might meet your needs.
Invoice2go is a Web-based software as a service (SaaS) product that gives contractors and freelancers a way to create invoices, estimates, purchase orders and credit memos from a mobile device (iOS or Android) or any desktop/laptop computer. It also provides reports with graphs of the overall state of your receivables and offers users a means of receiving payment via credit cards.
Once you have created your boilerplate company info, Invoice2go streamlines the invoice process, a vast improvement on, say, simply using your word processor. Besides keeping copies of your invoices, the application gives you payment status data -- including whether an invoice has been paid or not -- in its dashboard.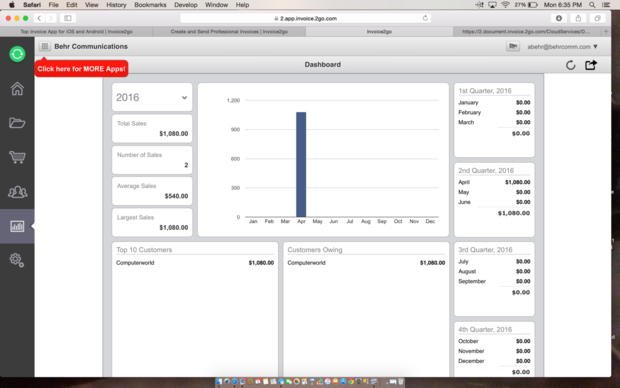 Invoice2go gives you a way to invoice clients quickly and on the fly.
I tested the free trial version, which lets you create three free documents without having to fork over any money -- not a generous trial, but enough to get the basic idea of whether it works. I tried both the Web and the iOS versions; the latter has the same look and feel as the former. But the iOS version could use more space between task selection icons, which are pretty closely spaced, making it harder for folks with larger fingers to accurately move between selections.
The Starter package costs $9/year and allows one user up to 50 invoices/month. There is also a $49/year Pro version that allows one user unlimited invoices. The Pro version throws in added value in the form of Apps2go, a group of integrated apps that includes Calendar2go, which allows you to log time; Statements2go, which lets you send customer statements; Receipts2go, which helps you track expenses; and others.