Reality, Virtually sets record for largest AR/VR hackathon
Five floors of the MIT Media Lab were occupied last weekend by developers, designers and storytellers building open-source AR/VR projects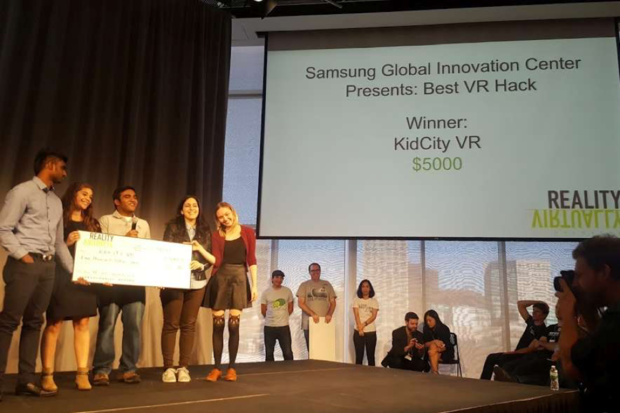 More than 400 participants, mentors, workshop speakers, judges and sponsors convened at the Reality, Virtually AR/VR hackathon sponsored by the MIT Media Lab last weekend, setting a hackathon record with 75 open-source project submissions.
The winners were KidCity VR and Waypoint Rx.
KidCity VR, built by Anish Dhesikan, Jacqueline Assar, Theji Jayaratne, Emily Pascual and Kachina Stude, is an HTC Vive educational application for children and parents to play together in virtual reality (VR). The team won $5,000 from Samsung's Global Innovation Center for the best VR application
Waypoint RX, built by UmarArshad, Sara Remsen, Paul Katsen, Varun Man and Jan-Erik Steel, is a Microsoft Hololens augmented reality (AR) application designed to help pharmacists reduce prescription errors by checking the medications selected against the prescription. The team won $5,000 from AT&T for the best AR application.
An infectiously crazy idea
Hackathons are all about software. Successful software projects are prototyped, iterated, improved and scaled to very large adoption. After all, what is the point of building software if a lot people will not use it?
Rus Gant, director of the Visualization Research and Teaching Laboratory at Harvard University, attended a community-organized VR code lab at Google on a beautiful and sunny July Saturday in 2015 with about 100 developers. There he planted the seed for the crazy idea to apply this model to scale an AR/VR hackathon to be very large.
The idea was iterated and improved with an AR, then VR, hackathon organized by the Google Developer Group in Boston. In January of 2016, the organizers began looking for a sponsor to host a hackathon scaled up to a large proportion.
When they approached Scott Greenwald, a Ph.D. candidate at the MIT Media Lab, with the crazy idea, Greenwald did not think it was crazy—he loved it. A few hours later, Greenwald had MIT Media Lab's approval to make the Lab the venue for the hackathon. The Media Lab had only one condition: that all hackathon projects would be under open-source license to stimulate open innovation in the AR and VR community. No surprise because Media Lab Director Joi Ito is co-author of the Creative Commons license.
With the Media Lab's inspirational facilities confirmed, the organizers proposed the crazy idea to Ben Nelson who leads AT&T's hackathon program, which includes the enormous hackathon at the Consumer Electronics Show. During a three-minute phone call, Ben listened to the crazy idea, loved it and committed significant financial support. And he became an advisor to the hackathon.
The challenges of diversity, openness and large scale
Most hackathon teams are composed of friends who have experience competing together in hackathons. It is an isolated experience. Teams arrive, concentrate on building their projects and miss the opportunity to interact with the other teams.