Real estate firm CIO moves on amid shifts to shared services
Durgesh Sharma is out at Colliers International after developing custom client and broker applications, which he hosted in Microsoft's Azure public cloud.
Colliers International CIO Durgesh Sharma has left the commercial real estate firm, joining long-time CEO Doug Frye and other senior managers who have also moved on since parent company FirstService spun it off last April.
"The new leadership has gone in a different direction," says Sharma, who spent more than seven years at Colliers. "I've got no regrets or complaints about them."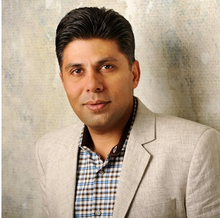 Colliers International former CIO Durgesh Sharma.
A Colliers spokesperson tells CIO.com that while the company is not permanently eliminating the CIO role, Mihai Strusievici, formerly director of information technology for Colliers International Canada, is currently managing IT for Colliers in the U.S. and Canada. Colliers declined to comment further for this article. But former employees familiar with the company's plans tell CIO.com that the company is moving toward a shared services model, swapping global oversight for regional leadership.
Committing to the cloud
Sharma's work at Colliers helped lay a strong foundation for the company. Under his leadership, the company migrated nearly 9,000 employees to Office 365 for email and began building custom apps on Azure that help improve Colliers' brokers and clients' property management.
"We knew that we didn't want to be in the business of managing infrastructure," Sharma says.
Chief among these Azure-based custom apps is Colliers 360, a business intelligence tool that aggregates real estate information from Colliers customers and industry property benchmarks to present a holistic view of how a client's real estate portfolio is performing.
Real estate managers at Microsoft, Coca Cola, 3M and British Telecom use the software to help them decide whether to acquire or dispose of properties, which is no trivial concern at a time when real estate is one of the biggest corporate expenses. "Every company that doesn't own their own real estate want to optimize their investment," Sharma says.
Colliers 360 users access information from a customized dashboard tailored to their business needs.
Sharma says the platform will increasingly collect data from mobile and IoT devices, including sensors that gauge how long employees are sitting in, he says.
For the "global client" initiative, Colliers' IT staff aggregated regional customer data stored in in its Microsoft CRM systems in the U.S., Canada, Australia and Mexico, and ran it through Salesforce.com's Data.com business contact technology. They then used Tableau software to visualize business that brokers have conducted with clients.
For example, if Colliers hears that Uber is setting up shop in Seattle, it can use the global client platform to see whether the company has a previous business relationship with the ride-sharing service, who at Colliers has the best relationship with Uber, and other details. "At least you have a chance of going to Uber and… get the first meeting with them for their work in Seattle," he says.