RapidWeaver 7 review: Great new features but neglects existing gaps
New version of Realmac's web design app has excellent additions but doesn't shore up its shaky core.
What's older needs work
I'm still not a fan of RapidWeaver's bifurcated approach to building webpages. You add text and images to a blank canvas in the Edit pane, then switch to Preview to see how they look in your finished template. This makes it easier to switch templates and try different designs. But you can never view and edit your prospective site simultaneously.
Though some of the new themes look especially great, there's still only so much you can do to customize them, mostly involving swapping colors or a limited selection of different fonts. If you want a sidebar on any page of your site, it'll have to be on every page; I couldn't find a way to toggle that feature on a page-by-page basis.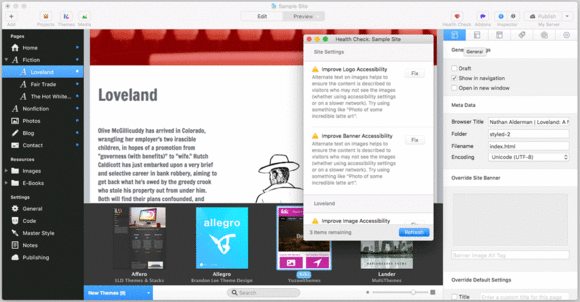 A friendly SEO Health Check walks you through easy ways to improve the odds that search engines will see your site.
Most troublingly, even my two favorite new themes had crucial flaws. For no reason I could find, Kiki's navigation wouldn't display a submenu under one section of my site, rendering those pages effectively invisible. And Voyager looked sharp and appealing on my Mac but rendered poorly on my narrow iPhone screen.
Finally, RapidWeaver's biggest strength remains its greatest hindrance. Realmac's cultivated a thriving marketplace of third-party add-ons for the program, including some that add powerful layout features and other valuable abilities. But you'll have to pay up for them; some of the most popular ones cost $50 or more.
Several of RapidWeaver's competitors already incorporate similar features. They may not be as sophisticated, but they don't cost you extra. I can understand why Realmac wouldn't want to alienate its developers by duplicating their work in the main program's feature set. But for users who don't want to keep opening their wallets (or can't afford to) the current approach leaves RapidWeaver feeling hobbled in comparison to many of its rivals.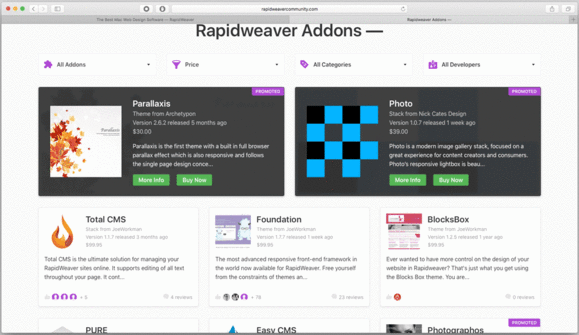 RapidWeaver enjoys a robust ecosystem of third-party add-ons, but some cost as much as the program itself.
Bottom line
What RapidWeaver 7 does well, it does really well. And if you're willing to spend two or even three times its initial cost for add-ons, you could probably build a magnificent website-building behemoth upon its not-entirely-bare bones. But I can't give the program an unqualified recommendation when so many of its rivals do more and cost less without requiring additional purchases.