RapidWeaver 7 review: Great new features but neglects existing gaps
New version of Realmac's web design app has excellent additions but doesn't shore up its shaky core.
RapidWeaver 7 ($100, $60 upgrade) offers several smart upgrades to its website-building toolkit. Unfortunately, it also inherits the central limitations of its predecessor. Between the increased price and the features that either aren't present or cost extra, RapidWeaver 7 still lags the competition.
What's new works well
I truly liked the new features in RapidWeaver 7, particularly the SEO Health Check, which scans your site, then guides you through a checklist of steps that will help your site get noticed by search engines more effectively. (One of those steps involves another new feature: the ability to automatically shrink your site's CSS and JavaScript files for faster loading.) Each step is clearly explained, and bringing my sample site up to snuff only took a few minutes.
Realmac's RapidWeaver 7 offers a sleek, attractive interface and several modern themes for your sites.
RapidWeaver's publishing engine was slightly shaky in version 6 but shines here. It's now easy to enter information for multiple FTP servers—including encrypted ones with public key authentication—then swiftly upload to each. I had no trouble firing off files to my FTP server, even when I told RapidWeaver to employ a faster but potentially less stable connection. For each server whose details you enter, the publishing engine can automatically back up your site files to a separate location on a regular basis, or every time you publish the site.
Version 7 builds in easier ways to add Google Analytics, meta tags, and other sophisticated features to your site's code. It also adds live site previews in Safari or the browser of your choice. It'll even automatically find and list all the browsers on your hard drive for you, rather than making you hunt for them. Live preview worked well in my tests, both in Safari and other browsers, bringing RapidWeaver 7 up to parity with many of its higher-end rivals in this respect.
RapidWeaver 7 packages all this, plus four brand new themes with support for responsive design, which automatically adjusts to different devices' screen sizes, in a slick, professional UI. And version 6's best features haven't gone anywhere, including its excellent and easy tools for making and editing blog entries, photo galleries, and contact forms. Realmac still offers an excellent online knowledge base, and a selection of how-to videos (many free, though even more of them cost money to access).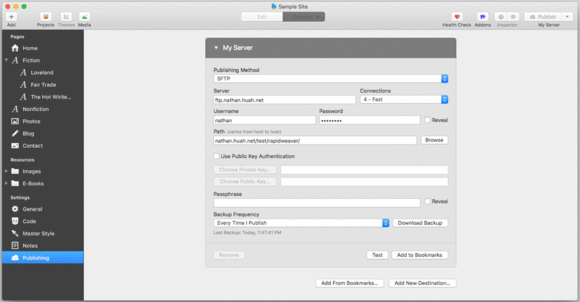 The program's brawny beast of a publishing engine barrels beautifully through even the beefiest of uploads.
However, a lot of the biggest stumbling blocks from the previous version are still around, too. And some of those new themes aren't all they're cracked up to be.