QuarkXPress 2016 review: New features help your documents look their best
Converting PDF, EPS, Adobe Illustrator, and Microsoft Office items to native QuarkXPress items highlights this fast, stable upgrade.
(In order to include interactivity in an HTML5 publication, Quark includes a web app in the exported package. This means that your HTML5 publication must be hosted on a web server to be seen by others. Fortunately, your Mac includes a built-in web server you can employ to instantly share the publication over the Internet. QuarkXPress also has a preview button that exports and opens your publication in your computer's default browser so you can test your publication's functionality before sharing it with others.)
OpenType Stylistic sets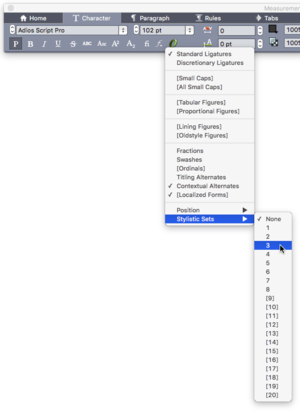 The OpenType options in QuarkXPress are one click away in the Measurements palette.
Many advanced OpenType fonts contain Stylistic Sets, which create harmonious combinations of letterforms chosen by the font designer. This comes in handy when there are several alternate versions of a character, and you simply want the nicest choice for your text.
QuarkXPress now gives you access to Stylistic Sets in the Measurements palette. Click the green O to see them. (First, choose an advanced OpenType font, which often has "Pro" in its name.) OpenType options in QuarkXPress are far more convenient to use than those in Adobe's products, which are squirreled away in a submenu of a panel's tiny fly-out (side) menu.
Color Picker and Multi Color Blends
Formerly an XTension, the new Color Picker lets you click on any item (including imported pictures) to add new color swatches to your layout. Logically, it's located at the bottom of the Colors palette.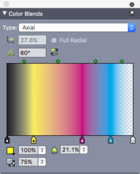 Color blends can now include multiple colors, each with varying levels of tint and opacity.
Blends (gradients) in QuarkXPress 2016 can now include more than two colors. Each color can have a different level of opacity (transparency) and tint, and you can adjust them with sliders or by typing in values.
Clean caches and delete prefs file
Because Quark has historically followed the font management rules of the operating system while its competitors haven't, sometimes the information it stores about fonts becomes confused. Since version 10 they've provided a QuarkCacheCleaner app to delete the font and picture cache files used by QuarkXPress. Responding to user requests for troubleshooting, this utility now has an option to delete the QuarkXPress Preferences file as well. (You'll find it in the Tools folder inside the QuarkXPress 2016 folder.)
Other user-requested improvements
A common complaint from designers is that the items in palettes and panels are too small to see, especially on smaller screens with high resolutions. Quark has begun to address this issue with an optional 50 percent larger size for the icons and text in the Measurements palette, which is by far the most used palette in QuarkXPress.
Previous Page 1 2 3 4 5 Next Page