QuarkXPress 2016 review: New features help your documents look their best
Converting PDF, EPS, Adobe Illustrator, and Microsoft Office items to native QuarkXPress items highlights this fast, stable upgrade.
On-screen display dramatically better than Adobe's
In QuarkXPress 10, Quark replaced the on-screen rendering engine and the results are far more accurate than what you see in Adobe InDesign, Illustrator, or other Adobe apps. The difference is very clear now that the user can convert those documents into QuarkXPress. Below is a product label that was created in Illustrator, then imported and converted to native objects in InDesign and QuarkXPress.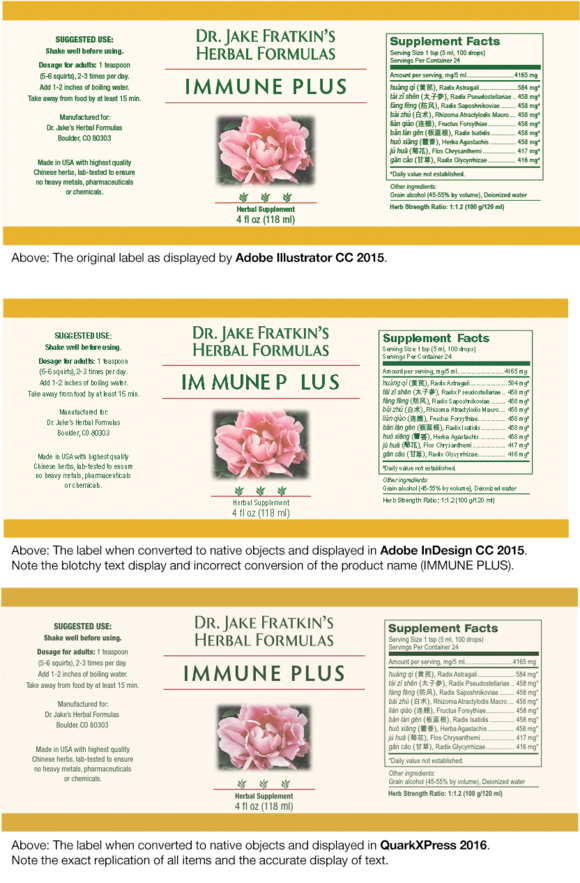 A label in Adobe Illustrator (top), converted to InDesign (center) and converted to QuarkXPress (bottom). The difference in display quality is obvious. Click to enlarge.
Instant export to HTML5
HTML5 is the language of modern websites, ebooks, and some mobile apps. QuarkXPress 2016 can export anything you create (or convert) to an identical version as an HTML5 publication. This means you can export a reflowable ePub, a fixed-layout ePub file, or a web version of your document with one or two clicks.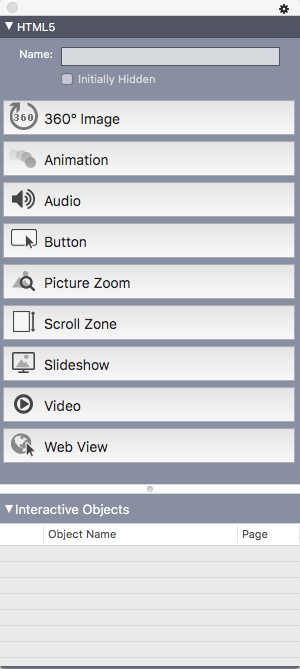 The HTML5 palette in QuarkXPress 2016 lets you add interactive behaviors to page items.
You can add interactivity to any page item using the HTML5 palette, and QuarkXPress 2016 will export a fully functioning version by generating a combination of HTML5, CSS, and Javascript. Besides allowing you to import and control an audio or video file, you can make buttons that perform various actions (go to another location, a webpage, hide and show objects, and so forth), create hotspots and popups, flip pages, rotate and slide items on the page, zoom into pictures, create multi-image slideshows and carousels, send email, use HTML5 widgets, geolocate the user, or display the live content of a webpage.
Perhaps most interestingly for publishers, you can create a Scroll Zone that displays only a portion of the content of a text box, but then the user can use scroll bars attached to it to view the rest of the story. And for the first time, HTML5 now allows almost every typographic trick in QuarkXPress, including runaround text, justified and hyphenated text, vertically justified text, text indents (indent here and discretionary returns), text color opacity, text aligned with baseline, outline and multi-level bullets and numbering (in Fixed Layout ePubs), custom kerning and tracking, tabs and tab stops, fractions and prices, and native "popup" footnotes (in Fixed Layout ePubs).
It's important to remember that QuarkXPress offers two kinds of HTML5 export formats: EPUB and HTML5 Publication. EPUB is for documents intended to be read on eBook readers such as the Kindle or iBooks on your Mac or iOS device, while HTML5 Publications are read inside a browser. HTML5 Publication is best used for brochures, interactive content marketing pieces, catalogs, and perhaps magazines. If you add interactivity, they can feel like an app, but you have to host them on your own web server.
Previous Page 1 2 3 4 5 Next Page