QuarkXPress 2016 review: New features help your documents look their best
Converting PDF, EPS, Adobe Illustrator, and Microsoft Office items to native QuarkXPress items highlights this fast, stable upgrade.
Also, publishers who import charts or maps now have a unique trick available to them. After converting to native QuarkXPress objects, the chart or map can be resized without changing the size of the text within it. (The Scale feature in QuarkXPress lets you choose which attributes to scale.)
To test QuarkXPress's ability to convert a wide variety of files, I scavenged up the most complex files I could find, dating back to the early 1990s. Unbelievably, every EPS, PDF, and AI file converted perfectly and within seconds. However, any fonts used in these files need to be active on your computer, or else QuarkXPress displays its "missing font" dialog. (If you subsequently activate those fonts, the document displays normally.) Unfortunately, sometimes when converting PDF files each line of text ends with a hard return that may need to be removed before editing the text. That's a limitation of how the PDF was originally generated.
Convert InDesign, Microsoft Office, and other objects to native QuarkXPress objects
The magical conversions continue: You can copy objects from many other applications and paste them into QuarkXPress as native QuarkXPress objects, including Adobe InDesign, Illustrator, CorelDRAW, Affinity Designer, Word, Excel, PowerPoint, and Apple Pages. And yes, you can successfully convert an entire InDesign page to QuarkXPress.
In my testing, every object or group of objects I copied from Adobe InDesign and Illustrator, Microsoft Word and Excel, converted to native QuarkXPress items flawlessly. PowerPoint slides converted well, but each line of text became its own box. Graphics from Apple Pages converted as expected, but text lost its formatting. To maintain the formatting, Quark recommends exporting the document from Pages as a PDF file and then converting the PDF file in QuarkXPress.
This ability to convert objects from other applications opens a whole new world of graphic possibilities. For the first time, you can use the Smart Art tools in Microsoft Office applications to create flowcharts and then fine-tune them in QuarkXPress. Same for charts and graphs in Illustrator, CorelDraw, or Microsoft Office. This could fundamentally change the relationship between corporate chart producers and page layout artists.
Text block conversions are more usable in QuarkXPress
While InDesign can convert a native Adobe Illustrator file into native InDesign objects (it can't convert PDF or EPS), the resulting text frames are broken up and difficult to use. In contrast, QuarkXPress 2016 converts the objects exactly as they were in Illustrator. The example below was created in Illustrator, then imported and converted to native objects in InDesign and QuarkXPress.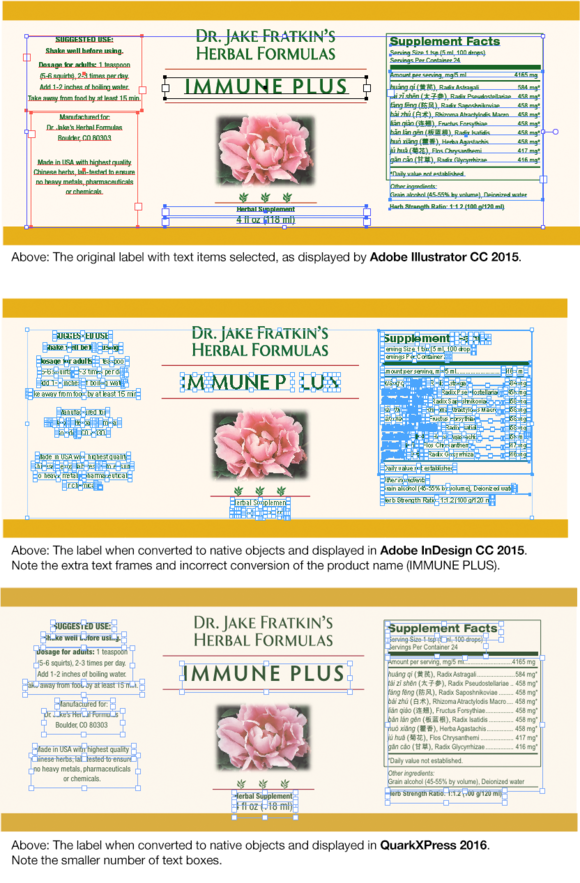 A product label in Adobe Illustrator (top), converted to InDesign (center) and converted to QuarkXPress (bottom), with text objects selected. Click to enlarge.
Previous Page 1 2 3 4 5 Next Page