PrintLife 3 review: Virtual print shop update shines despite early release bugs
PrintLife 3 introduces a vastly improved UI refresh and loads of new ways to embellish content, but could use a minor update to squash lingering bugs with photos and textures on OS X El Capitan.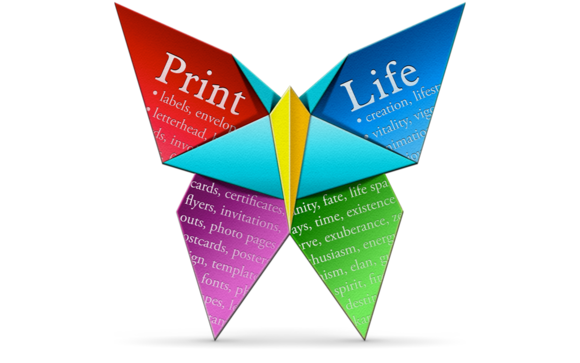 Anyone who owned a personal computer in the '80s will have fond memories of The Print Shop, the original consumer-centric desktop publishing application. Initially conceived as a companion for early dot-matrix printers (remember those?), the software became insanely popular on every platform it was released on, including Mac.
The Print Shop is still with us three decades later, but less relevant than ever in the wake of stiff competition from rivals like Chronos, who recently upped the ante with a major new—but not yet perfect—update to its own virtual print shop application.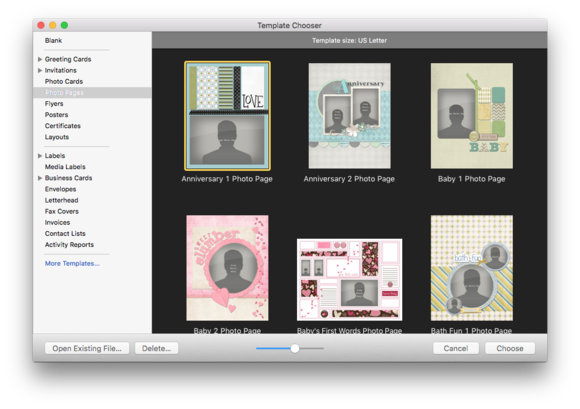 PrintLife 3 includes more visually rich templates than competing software, including additional freebies downloaded online.
What's the occasion?
At first glance, PrintLife 3 doesn't deviate much from The Print Shop playbook, combining clip art and templates with powerful and intuitive software that allows users to design printable content for nearly any occasion. But this isn't your father's application: This bundled clip art is more refined, the templates more elegant. 1,000-plus templates are included, and others can be downloaded online free of charge.
Whether it's a greeting card, photo collage, flyer, invitation, or certificate, PrintLife pretty much has you covered; there are also slick templates for home business users to create letterhead, invoices, envelopes, or file folder tabs. The latest release adds direct integration with Photos and iTunes—designers can search by faces, favorites, or places with the former, or insert playlists and album art for CD labels or jewel cases from the latter.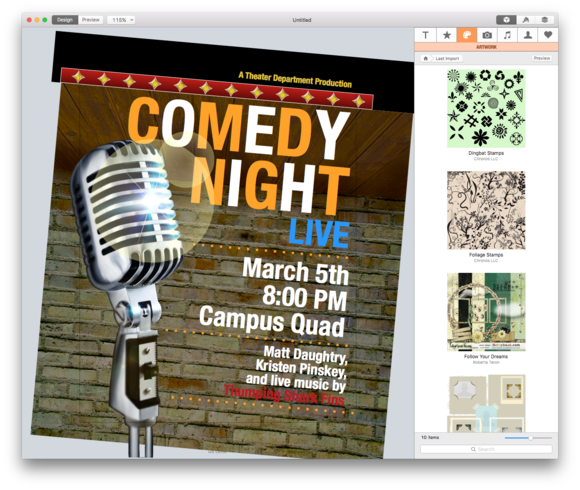 PrintLife 3 includes a full complement of artwork elements to embellish whatever printed material you might need.
The big news with version 3.0 is a major user interface overhaul, which consolidates design tools into a trio of inspectors that reside inside a single sidebar at right. This not only makes PrintLife simpler to use—and easier on the eyes—but is also thoughtfully designed with today's smaller MacBook screens in mind.
Chronos also hasn't forgotten about iMac owners or those of us with external displays: From the View > Format menu, extra display real estate can be used to call up standalone Style, Image/Text, and Arrange inspectors. The toolbar across the top also allows switching between Design and Preview modes with just a click, so designers can see their work in a cleaner, trimmed view, free of UI distractions.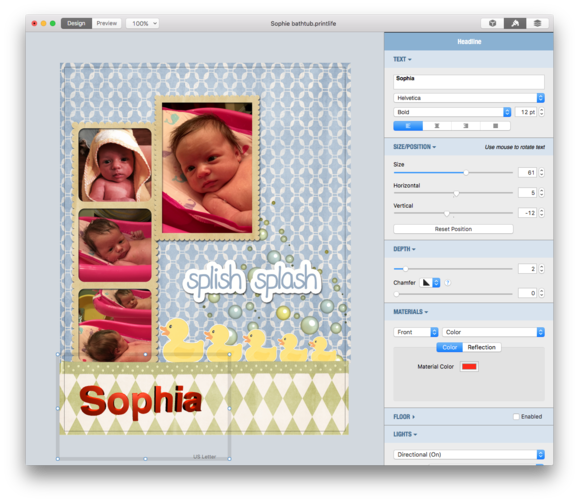 3D text is one of the many new features in PrintLife 3, with complete control over every aspect of the look and feel.