Pixelmator 3.5 Canyon brings new selection tools and a retouch extension for Photos
Pixelmator Team just released a major update to our favorite image-editing app for Mac.
The Magnetic Selection tool uses the Core Image and Core Animation technology in OS X to "snap" your selection around the object. Keyboard shortcuts let you quickly change the brush size and remove anchor points, for speedier and more accurate selections.
These new features join a redesigned Stroke effect that's now up to 15 times faster in OS X El Capitan; content-aware smoothing for the Color Selection, Paint Bucket, and Magic Eraser tools; and better Refine Selection performance. Plenty of bugs were squashed too—you can see the full release notes for Pixelmator 3.5 Canyon in the Mac App Store.
Photos extension
Pixelmator 3.5 Canyon also comes with a Retouch extension for Apple's own Photos app. That way, your images can stay sorted in Photos, but you can still retouch them with Pixelmator's Repair, Color, Clone, Soften, Light, and Sharpen tools. Soften, Color, and Light go beyond what's already in Photos by letting you use a brush to paint the effect on just part of your image.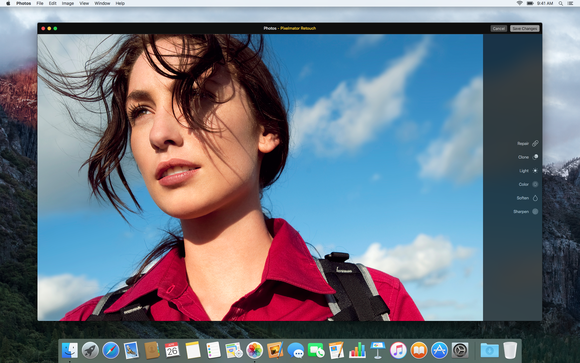 The Retouch extension brings some of Pixelmator's power right into Photos.
The Pixelmator Retouch extension is built on Apple's Metal technology, using Apple's Swift 2 programming language. The tools were built natively for Photos, and they even support Force Touch trackpads on newer MacBooks, adjusting the strength of the tool based on how hard you press on the trackpad.
Pixelmator 3.5 Canyon is a free update for current Pixelmator users, and $30 in the Mac App Store for new buyers. For a free 30-day trial, visit pixelmator.com. We'll follow up soon with a full review.