Philips Hue White and Color Ambiance Kit review: Still the market leader
No manufacturer has done more to advance the concept of smart LED bulbs.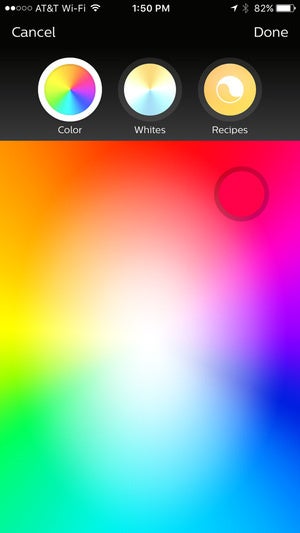 The Philips Hue app lacks some of the fun features you'll find in other smart-bulb apps.
While setting up our environment was marred by some glitches—the hub didn't find the bulbs at first—the bulbs themselves work well. Assigning bulbs to rooms is intuitive, setting colors is simple, and configuring timers (here called "routines") is quick and easy. Also, the serious range issues I experienced in the prior model have all but vanished here.
The Hue system covers all the basics, but it lacks the "party mode" strobe and color-fading settings that most other bulbs have. Those looking to make a room highly festive are better off with another solution. (While you can download third-party apps, not all of them are free.)
Philips has completely redesigned its Hue system of lights, and it continues to upgrade it with the smart home fully in mind. The company appears to see a future where an entire home is outfitted with Hue bulbs, all controlled from your phone. That's a serious vision, with the result of the Hue feeling a bit stodgy—perhaps a bit too much so.