On1 Photo 10 review: From suite to sweet: photo editing app does it all
Looking for an alternative to Photoshop and Lightroom? Photo 10 has a lot to offer to photo editors.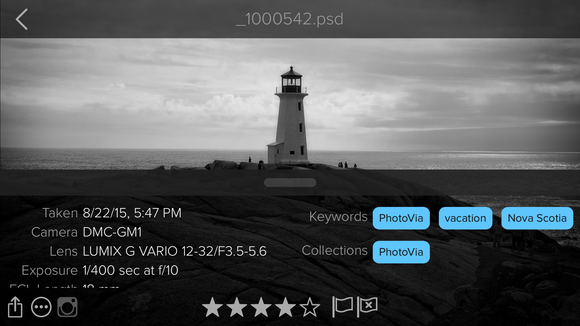 On1's PhotoVia app on your iPhone accesses images that you've shared with it via Dropbox or iCloud. The app in turn can be used to share with other services (like Flickr or Facebook) and also lets you view and edit important metadata about images.
What's not to like?
On1 Photo 10 doesn't do everything. No pano stitching. No tools for advanced lens corrections or perspectival correction. No support for movie files.
And Photo 10 needs some polishing. Occasionally, it misbehaved in ways that suggest there are still bugs to be squashed. Also annoying are rough edges in the user interface and user experience. For example, there's no way to view an image full screen. When I close a file in the Layers module, I expect to return to Browse, but I don't; and while there are keyboard shortcuts for nearly everything else, astonishingly there is as yet no keyboard shortcut for switching to Browse. Photo 10's unique smart photo PSD files are clever and useful but can't be cropped. I've been told by the folks at On1 that some of these foibles will be fixed in coming updates.

You don't have to get fancy with On1 Photo 10, although I did tweak a film preset (KodaChrome) on this image of a partridge. Credit: William Porter
Bottom line
No other single app in active development for Mac OS X provides the range of features found in On1 Photo 10: competent file management tools, outstanding editing tools including support for compositing in layers; and support for just about every export and sharing option you can think of, including, in On1's PhotoVia, a drop-dead easy way to get your masterpieces over to your iPhone or iPad.
With so much to offer—and with so much competition—On1 Photo 10 will appeal to different photographers for different reasons. Even if you're a Photoshop virtuoso, you may be interested in On1 Photo 10 for the creative presets in the Effects module. If you are already happy with another app as your primary photo management and processing tool (say, Lightroom, or even OS X Photos), you should check out Photo 10's easy implementation of layers. But remember, On1 Photo 10 is now a complete raw workflow app that can stand on its own. Bummed that Apple killed off Aperture? Not enthusiastic about Adobe's new subscription plan for its apps? Feel that Lightroom isn't enough, but Photoshop is too much? Then you should give Photo 10 a serious look. On1 provides a 60-day free trial, so you have plenty of time to try before you buy.
Previous Page 1 2 3 4