On1 Photo 10 review: From suite to sweet: photo editing app does it all
Looking for an alternative to Photoshop and Lightroom? Photo 10 has a lot to offer to photo editors.

On1 Photo 10's layers module makes compositing easy. Here are two versions of the same informal portrait, with different treatments—and different backgrounds from the collection that comes with Photo 10. Credit: William Porter
Most of my editing in Photo 10 is done in PSD files, which support layers. Photo 10 has an optional "smart" PSD file format that makes it possible to reopen a file later in Photo 10 and make revisions.

I straightened this shot's perspective in DxO ViewPoint, then finished processing and added a border in On1 Photo 10's Effects module. Credit: William Porter
Workflow complete
In addition to making things more efficient in the middle of your workflow—that is, where you do your editing—Photo 10 also provides improvements at the beginning and the end of the processing chain, so that Photo 10 can now handle a raw workflow from start to finish.
At the start, Photo 10 eliminates the need to import files. Since it doesn't store your edits in a proprietary database, you copy images from your camera to your computer's storage any way you like, then just click on a folder of images in Photo 10's Browse module. The Browse module in Photo 10 renders images quickly on my new mid-level MacBook Pro, and I can quickly rate, keyword, label, and/or caption a large folder of images. Basic finds on these user-entered types of metadata are easy. Other finds—say, by camera, focal length, or file type—can be done using the new Smart Albums feature.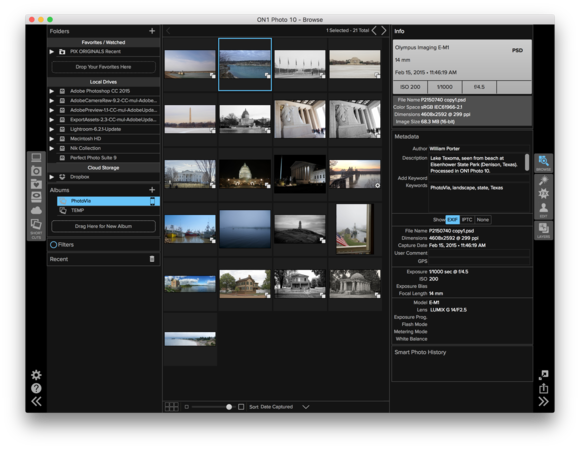 The Browse module in On1 Photo 10 does just about everything a photo management app needs to do. Because Photo 10 doesn't store your edits in a database, there's no Import command: You just open folders and navigate through them. You can rate, flag, label, keyword, and caption your images, and organize images into albums (standard or dynamic "smart" albums).
At the end of your workflow, Photo 10 can export to multiple file formats, resize files (making them bigger as well as smaller), add a watermark, even add effects from editing presets (say, batching converting images to black and white). The new sharing feature hooks into OS X to upload images to Flickr or Facebook, send to Photos or Messages, or share via AirDrop. And I'm especially fond of On1's PhotoVia feature, which syncs selected images with my iPhone and iPad via Dropbox or iCloud. Setting up PhotoVia took me about a minute and before long I had a selection of recent favorites on my iOS devices. I tried to achieve the same result with Adobe Creative Cloud and Lightroom Mobile but gave up after half an hour.
Previous Page 1 2 3 4 Next Page