On1 Photo 10 review: From suite to sweet: photo editing app does it all
Looking for an alternative to Photoshop and Lightroom? Photo 10 has a lot to offer to photo editors.
At the heart of Photo 10 are three editing modules—Enhance, Effects, and Portrait—and a kind of sub-editing fourth module for creating and managing layers.
Like Lightroom or OS X Photos, On1 Photo 10's Enhance module can read raw files and perform basic adjustments, corrections, and enhancements to aspects of the image such as exposure, contrast, color, noise and sharpness, and spot removal.

Flying at around Mach 3.5, the SR-71 "Blackbird" flew from Los Angeles to Washington, D.C. in 62 minutes. I processed this image in On1 Photo 10 and added a radial blur to give a sense of speed to the image. Credit: William Porter
While Photo 10's Enhance module is deliberately straightforward, its Effects module is rich in possibilities. You'll get a quick start on your images by selecting a preset from the drawer on the left, which is organized by different types of shooting (e.g., Architecture, Weddings, Landscapes, Sports) and different styles (e.g., Black and White, Cinematic, Hipster, Urban). But Photo 10 isn't just a library of Instagram-style canned looks that you can slap on your images. You can edit all the presets and/or build your own sophisticated renderings by selecting and stacking the filters that are the components of presets (e.g., Antique, Blur, Black & White, Dynamic Contrast, Sunshine, etc.); and every filter can be masked and/or blended as you like.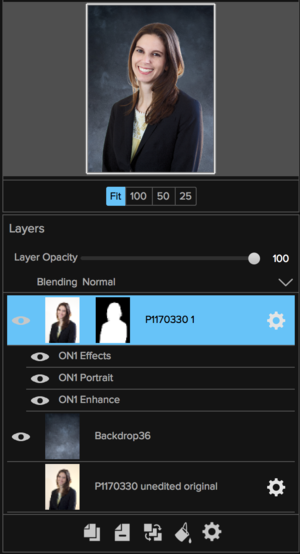 The Layers module in On1 Photo 10. This image has three layers: the inactive unedited original portrait at the bottom; above it, a simple backdrop layer; and on top, the edited portrait, masked to allow the backdrop to appear. This is a "smart photo" PSD file, so the modules used in the top level are displayed as sub-layers that can be re-edited later.
The third editing module, Portrait, provides specialized tools for editing the elements of a face discretely. For example, you can enhance detail in eyes without exacerbating wrinkles, or you can soften skin and remove blemishes without needing to make a careful mask that excludes eyes and mouth. It's a useful module, as far as it goes. For more aggressive edits like adding makeup, relighting or reshaping faces, you'll need Photoshop or a dedicated app like Anthropics' PortraitPro.
Finally, there's that special fourth module: Layers. This is where Photo 10 goes beyond Lightroom and invites comparison to Photoshop. Even within a single layer you can get layer-like effects by stacking filters and by using masks and blending. The layers module has many uses, including compositing.
Edits made to raw files by On1 Photo 10 are always saved from the start in a separate file (JPEG, TIFF, or PSD). By comparison, many other apps, including Lightroom, save edits internally. The latter approach creates fewer files in your project folders; but it also means that Lightroom pretty much owns your edited files until you export them. If you work entirely in Adobe's ecosystem and plan on doing so in the future, this works fine. But I have always worked in a variety of editors and I don't really trust any of them (remember Aperture?). For me, keeping my edited files independent of any one app is a big plus.
Previous Page 1 2 3 4 Next Page