Office's undiscovered plug-ins: Microsoft tries to find users for this little-known feature
If a tree falls in the forest, and there's no one around to hear it...
Here's the difference: Plug-in apps use the full power and flexibility of the Web, Howard said. Connectors treat a piece of data like an object or a card, and suggest a few actions to act upon it. Both, though, pull this data from outside sources.
Connecting users, data has become central to Office
Over time, culling this data from outside sources has become part and parcel of the Office experience. In Word 2016, for example, you can pull up a real-time window on the right-hand side of the screen to ask Cortana to hunt down information for you. But that capability is right in front of the user.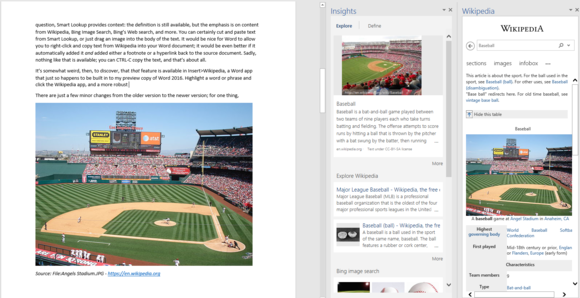 You can turn on a feature called "Insights" to help you add context to subjects you're writing about in Word 2016. Credit: Mark Hachman
Howard declined to say specifically how Microsoft would make the plug-ins more visible. Obviously, Microsoft has a Store app, that it could use to surface them. Placing larger icons in the ribbon would also help. It's possible that admins pushing plug-ins to corporate workers across a network might raise awareness of the technology, Howard agreed. Apps within Microsoft Office have also begun promoting their own app updates in splash screens when they launch.
Microsoft needs its users to keep paying for Office, and to spur them on, it needs to keep increasing its value. But if customers don't know what that value entails, it's all for naught. The bottom line: It may take a while, but expect Office plug-ins to become much more visible.