Office on iOS, Android is not free for everyone
For any commercial use, it costs the same today as it did last week: Office 365 subscription required.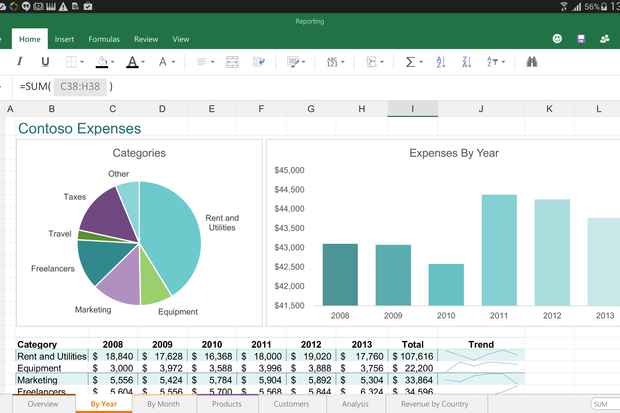 Microsoft has started beta testing Office apps like Excel for Android tablets.Credit: Microsoft
Among all the headlines yesterday that touted Office as suddenly "free" after Microsoft announced changes to its mobile productivity apps, one thing was overlooked by many: For business, Office still costs money.
"The unsung thing in all this is that this news is only about consumers," said Wes Miller, an analyst with Directions on Microsoft, in an interview Thursday. "For businesses, nothing has changed."
Microsoft was much to blame for the mix-up and oversight. In its messaging Thursday, including the two different blog posts where it spelled out the change details, it never once used the words "consumer" or "business" to clarify which customers got what for free and who must still pay. Instead, the Redmond, Wash. company used the phrase "bringing Office to everyone" to trumpet the news.
Everyone? Not really.
"Office for iOS and Android smartphones and tablets is indeed free, within certain bounds," Miller elaborated later Thursday in a post to his personal blog. "Office is free for you to use on your smartphone or tablet if, and only if you are not using it for commercial purposes [and] you are not performing advanced editing."
The latter was easiest for everyone to understand: What Microsoft did Thursday was move the boundary between free and paid, shifting the line -- what independent analyst Ben Thompson called the "scarcity line" -- significantly for consumers.
Prior to Thursday, consumers without an Office 365 subscription could use the Office for iPad apps only to view Excel, PowerPoint and Word documents. Under the changed rules, those consumers may also edit and create documents, although with numerous restrictions -- the "advanced editing" part -- that may be useful to a minority of tablet owners.
(Office on the iPhone and Android smartphones went "freemium" -- no Office 365 subscription required for consumers -- in March on the same day that Microsoft introduced Office for iPad.)
But it was the "commercial purposes" part of Miller's succinct analysis that confused people who implied Office was free to all.
Microsoft's licensing terms clearly state that Office still costs money -- the same as it did Wednesday -- if used in a business setting, whether on an iPad, iPhone or Android smartphone. "You may also create, edit or save documents for non-commercial purposes [emphasis added]," stated the Word for iPad app's license, referring to the freemium version for consumers.
"Commercial use requires a commercial Office 365 subscription that includes Office 365 ProPlus," said Miller in an email after questions from Computerworld about licensing. ProPlus is the term for the locally-stored bits that comprise the Office 2013 (Windows) or Office for Mac 2011 (OS X) applications.