New Apple TV opens door for enterprise use
But much depends on the evolution of TVos and Apple TV App Store.
Apps fitting this category are already available to some extent with Coursera's app for Apple TV being the best example.
One possible use case would be using Apple TV for business or industry-specific calculators and tools. These could encompass a range of tools from interactive classroom/training apps to insurance or loan calculators to healthcare risk assessment apps. They would allow simple input of data, apply calculations, and deliver a result in real-time. Combined with content related to the business/industry, the results could provide a unique form of engagement.
One example, drawing on healthcare, might enable a nutritionist to enter calorie, sodium and sugar intake information to simulate how changes in diet could affect the risk for diabetes or heart disease.
Enterprise apps (or the lack thereof)
Enterprise apps, designed to be used only on Apple TVs within an organization, would be an excellent extension for business or education. They could function in terms of providing access to specific resources and content collections as well as to offer access to real-time information like a producition, sales, or a customer interaction dashboard. They could even go as far as allowing a user to peruse enterprise apps/systems like a company directory or calendar.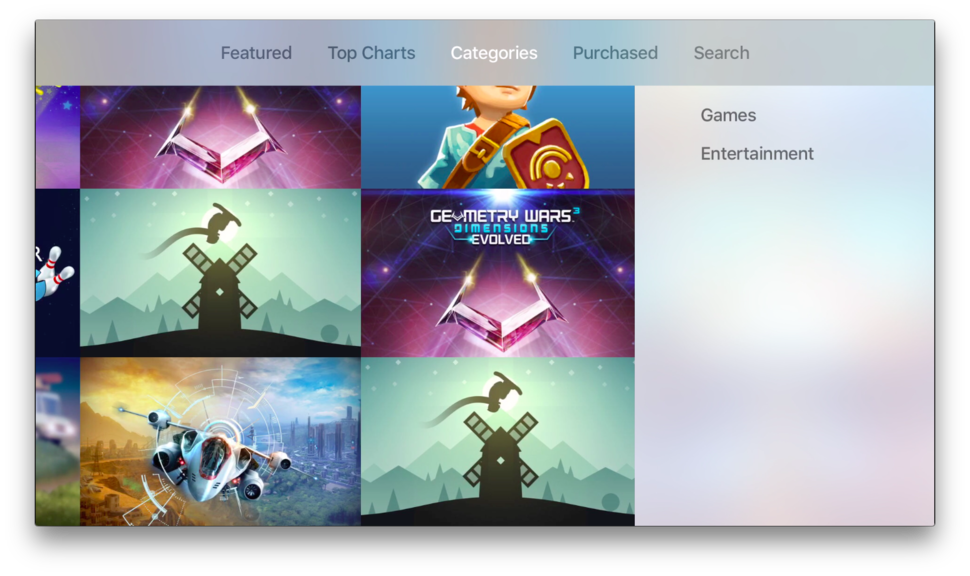 The issue here is that many of these apps would likely be custom designed for in-house use and would need to be distributed outside of the public App Store similar to how enterprise apps are distributed to iOS devices. According to an Apple staff member on the company's developer forum, this capability for enterprise app deployment isn't yet available. Whether this is a feature Apple plans to add is unclear, though doing so could be relatively simple for the company since it would largely involve extending existing iOS management capabilities to tvOS.
Customer-facing apps for the App Store
With the previous examples, I looked at how apps could be used in a business setting. Those examples articulate the value of the Apple TV itself as a business tool. But an equally compelling prospect is the idea of creating apps that potential customers could download from the App Store and use on their Apple TVs at home. There are already some excellent examples of companies investing in the new Apple TV as a customer engagement and shopping solution: QVC, Gilt, Airbnb, Zillow, and Houzz are all great examples.
Beyond shopping, the Apple TV offers a unique platform for providing information about products and services as well as customer service interactions. Apps in this category can even provide links to social resources, offer access to behind-the-scenes content and allow users to compare items or services in real time. In this respect, they can function much as a business calculators, but with a customer driving the experience rather than a salesperson or consultant. Apps created for these types of purposes can even be used in both of those contexts.
Previous Page 1 2 3 4 Next Page