New A.I. tech helps you write right
The newest cloud tools (which are online now) can help you fix your writing as you write.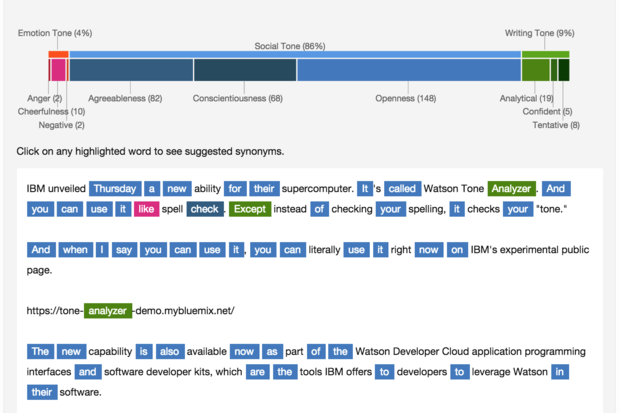 The publicly available Watson Tone Analyzer example site shows you how your words will come across on scales about emotion, social propensities and writing style.
This column is a little cheerful, slightly analytical, both confident and tentative and just a tiny bit angry. But mostly, it's open, agreeable and conscientious. At least that's what IBM's Watson thinks.
Last week, IBM revealed that its Jeopardy-winning supercomputer has a new capability. It's called Watson Tone Analyzer. You can use it like spell check, except instead of checking your spelling, it checks the "tone" of your writing. (And, by the way, when I say you can use Watson Tone Analyzer, you can literally use it right now on IBM's experimental public page.)
Watson Tone Analyzer is part of a new generation of writing tools that go far beyond the old spelling and grammar check. Instead, they help you polish and perfect your writing to achieve very specific goals.
Of course, there is already software that does all the writing for you. For example, companies like Automated Insights and Narrative Science offer products that take published data (such as financial numbers or sports scores, stats and other data) and turn it into prose, usually in the form of news stories or financial reports.
Here are examples of current news stories written by Automated Insights' product, which is called Wordsmith.
The fact that this technology can do this kind of writing says a lot about this category of prose. It's all utilitarian information delivery -- stories and reports that no writer wants to write and no reader wants to read. But the information must be conveyed somehow, and artificial intelligence is far cheaper than real intelligence.
Writing well is way too hard for computers. For example, a good writer wants to delight, be evocative and hold the attention of readers, and humor is a great way to do that. Thing is, computers just aren't funny.
New research from the University of Michigan, Columbia University, Yahoo Labs, and The New Yorker has found that even the most advanced artificial intelligence software can't tell the difference between a funny New Yorker cartoon caption and an unfunny one, even after analyzing massive data sets and hunting for correlations.
Prose-generating software robots represent interesting technology, but they've got a long way to go before they can write stories people want to read.
A far more interesting branch of technology helps people write better, instead of trying to write for them. By write better, I mean to use language in a way that helps readers reach specific goals.