Netflix Flixtape review: It's all mixed up (and ultimately not worthy of your time)
The buggy, flawed new Flixtape feature is more fun than useful, and more frustrating than fun.
When your mix is finished, you can copy a link for it, or simply post it to Facebook or Twitter. The recipient, of course, must have a Netflix membership to watch the titles or the list is mostly worthless. Later, I learned that my chosen recipient could not even open the Flixtape I sent her on her iPad.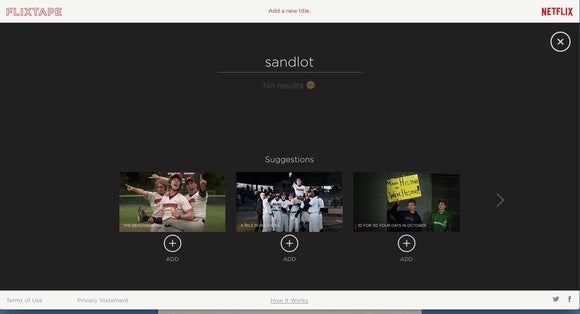 Bugs aside, Flixtape's biggest shortcoming is the paucity of movies in Netflix's library. Imagine creating a mixtape without access to a third of the Top 40.
Finally, for myself, I tried a "Western" mix, which gave me House of Cards, among other things that were decidedly not Westerns. (House of Cards seems came up a lot.) It seems essential that you use very specific search terms: "Western" didn't work, for example, but "Westerns" (with an "s") did. My results included Django Unchained and The Good, the Bad & the Ugly, which are fine, but also Ron Howard's The Missing, which I don't care for. I added Meek's Cutoff, The Homesman, and River of No Return, but I couldn't find another favorite Western to swap for The Missing. When I made my "Westerns" cover, it didn't have any kind of Western-related doodles, so I settled for a car and a smiling sun.
The main failure of Flixtape stems from the limited inventory in Netflix's library, which is becoming more and more like a used bookstore, good for browsing but not always useful when you're looking for a particular film. If you're making a flixtape and you're a creative curator, you'll want to look for specific titles. If you're making a baseball flixtape, for instance, you'll immediately search for, say, Field of Dreams, Bull Durham, orThe Pride of the Yankees, none of which are currently available on Netflix. After a long time poking around, you'll discover, instead, The Sandlot, Major League, Hardball, and a trio of documentaries, Fastball, The Battered Bastards of Baseball, and Knuckleball.
That's about it, and that's fine, but it's inevitably disappointing and not as creative—or as fun—as one might hope. Unless Netflix is committed to making improvements in a hurry, I would guess that many movie fans will try Flixtape once, become frustrated, and never go back.
Previous Page 1 2 3