Netflix Flixtape review: It's all mixed up (and ultimately not worthy of your time)
The buggy, flawed new Flixtape feature is more fun than useful, and more frustrating than fun.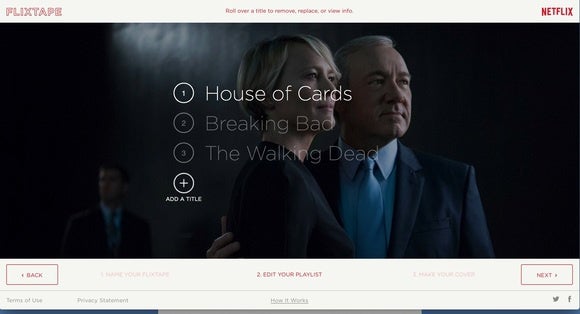 The Flixtape algorithm is pretty weak sauce. What connection does House of Cards have to the genre of pulp fiction?
Then I tried "Documentaries," and it did, indeed give me documentaries, though it wasn't a very interesting mix. It seemed like just six random documentaries, with no rhyme or reason, ranging from Blackfish to a documentary about Wal-Mart. A "further suggestions" bar below had about six or eight other titles, including Exit Through the Gift Shop, which I love, but which didn't really help spice up the mix much. I felt I needed something more.
So I tried a "Classic" mix. The search word "Classic" did give me some classics, including To Kill a Mockingbird and Disney's Robin Hood. Then came the challenge of trying to find three more classics for my mix. Users have the option to type in titles, but not actors or directors. I started randomly typing in titles and came up with "no matches." Then I realized I needed to navigate to Netflix in another browser window and start searching there. (The Flixtape search engine is extremely limited.) After much searching, I found some, including Otto Preminger's Laura and Robert Altman's 3 Women. I went back to Flixtape, typed "Laura" in the field, and it gave me "no matches." Then "3 Women." No matches. Just "women." No matches.
At this point, I think I broke Flixtape, as it presented a "Server Error (500)" message. Oops. After a while, the site came back, and the search feature appeared to be working again. I was able to add Laura. But then as I started another personalized mixtape, I found I was unable to add Roman Holiday, even though it's available; I was able to add 50 First Dates instead. What is this service trying to tell me?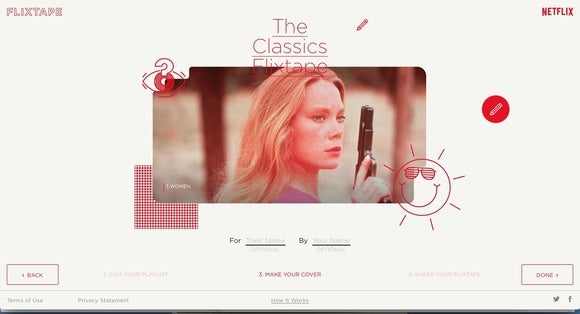 The question mark might be the most appropriate doodle here, because the recipient of your Flixtape is likely to be "Huh?"
Finally finishing a mix, I started working on the "cover," and again the service just isn't very intuitive. It instructs you to drag the little pencil icon, which changes little doodles stationed in the corners of the cover, but there's no logic behind it. I found a panda face, a box of popcorn, and a creepy heart with two hands protruding from the bottom, holding each other. It took a little while, but I managed to get away from the creepy heart and stop it on the panda and the popcorn. The photo in the center of the cover is simply a still from one of your six titles, but you can't pick which one.