Netatmo Presence review: This outdoor home security camera/floodlight justifies its high price tag
It costs almost twice as much as some of its closest competitors, but you'll only pay once because there are no subscription fees.
Open the app and you'll see a live view from the camera along with a series of thumbnail images in reverse chronological order. Icons next to the clips will indicate what triggered the camera to send the alert, and the thumbnails themselves are cropped to focus on the source of the motion.
Tap any of these thumbnails and the full video clip will play, replacing the live view in the app's larger window. In full-screen mode on an iOS device, you can pinch the display to zoom into and out of areas of interest, but you'll have to use onscreen +/- icons to do this with an Android device. The web app doesn't have any zoom capabilities.
Netatmo's algorithm is pretty good at distinguishing between people, cars, and animals, including small dogs. I set it up in my kitchen for a dry run and it even flagged a truck that appeared on my TV screen. It was never triggered by things like insects (a problem that dogged Logitech's otherwise excellent Alert series of security cameras, which are no longer manufactured). But there have been a few occasions at night where it mistook a wind chime hanging from my house's eave for a person. The Presence doesn't attempt to identify people's faces, which is wise; that's a feature Netatmo's indoor sibling promises, but largely fails to deliver on.
Onboard storage
Unlike many home security cameras, Netatmo doesn't store your video in the cloud. The good news is that they don't need to charge you a subscription fee for that service. When you stream recorded video from the camera, it comes from a 16GB microSD card (user upgradeable to 32GB) inside the camera itself. Live video is likewise streamed directly to your smartphone. Videos is encrypted in both scenarios as its passes from the camera to your 2.4GHz Wi-Fi network (a possible bone of contention if the 2.4GHz frequency band where you live is extremely crowded) and then over the Internet to your smartphone (or computer, if you're using Netatmo's web app).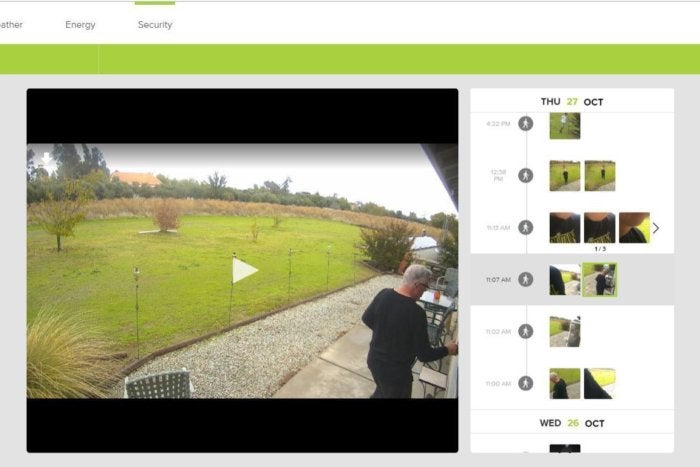 Netatmo's web app looks very similar to the mobile app, but with the timeline on the right to take advantage of a computer display's wider aspect ratio.
The microSD card is well hidden and not casually accessible, but there's an inherent risk with relying solely on local storage for forensic evidence. When the card fills up, the oldest videos are automatically deleted to make room. If you miss downloading an important clip, it will be lost forever. And any burglars who are aware of this limitation could rip the camera off the wall and take it—and the evidence of their presence—with them. Presence buyers would therefore be wise to take advantage of one or both of its video-backup features: You can configure the camera to automatically back up its videos to your Dropbox account, or you can configure it to back up to an ftp server—on a NAS box under your control, for example—preferably at an offsite location.
Previous Page 1 2 3 4 5 Next Page