Netatmo Healthy Home Coach review: This indoor climate monitor reports the obvious
This gizmo monitors indoor air quality, temperature, humidity, and noise, but it won't tell you much you don't already know.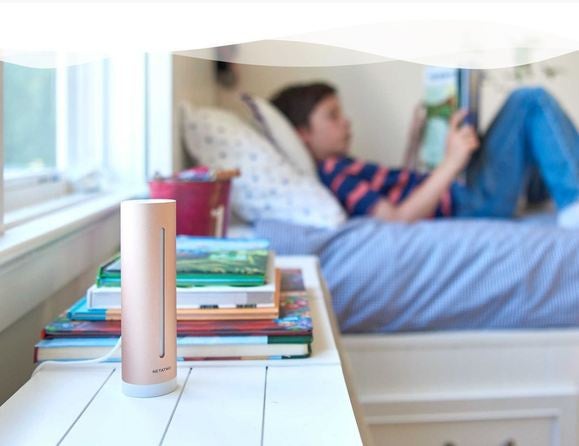 Everyone from the EPA to the American Lung Association has stressed the importance of indoor air quality. Indoor pollutants don't just impact personal comfort, they can often cause or exacerbate health conditions. Some researchers have even called for greater effort to monitor indoor air.
Fortuitous, then, that Neatmo has released the Healthy Home Coach ($100). This device monitors your indoor climate in real time to help you create the optimum environment whether you have particular health requirements, such as allergies or asthma, or just want greater comfort.
What you get
The Healthy Home Coach follow the same design cues as the Neatmo Welcome home security camera and the Netatmo Home Weather Station. It's a 1.77 x 1.77 x 6.1-inch cylinder with a champagne-colored aluminum finish. There's a single vertical light bar on the front that illuminates when the device is taking a reading. The Healthy Home Coach is easy on the eyes—certainly more so than your typical home hydrometer or thermometer—and can be placed inconspicuously on a shelf or end table.

The Neatmo Healthy Home Coach helps you create a more comfortable indoor climate.
The device doesn't have a display; all monitoring data is communicated through the Healthy Home Coach companion app. The Coach tracks and records air quality (CO2 level, but not the presence of the far more dangerous CO), humidity, temperature, and noise levels in real time.
As it gathers data, it recommends changes you can make to improve your environment in these areas. It also features profile settings that adjust its sensitivity for babies or people with asthma, as these populations have different ideal environments than healthier adults.
The Healthy Home Coach also works with Apple's HomeKit, so you could set it up to trigger your home's smart AC when the temperature rises above a certain level, for example.
I couldn't wait to try out the Healthy Home Coach. My dwelling was built 55 years ago and has many of the inefficiencies of its era: single-pane windows, poor insulation, and gaps around door frames. Drafts and condensation are constant issues this time of year, and outside dirt and dust find their way in year round through a couple of ill-fitting sliding-glass doors. I was anxious to see if the steps we've taken to manage these problems were working.
Setup and usage
It was a breeze setting up the Heathy Home Coach. You just plug it in with the included power cable and open the Healthy Home Coach app. Once it detects the device, it walks you through the process of joining your Wi-Fi network. The whole operation takes about 4 to 5 minutes.