Mylio review: Keep your photos organised, synced and backed up
Nestled between iPhoto and Lightroom, newcomer Mylio wants to take the pain out of collecting and organizing your zillions of photos.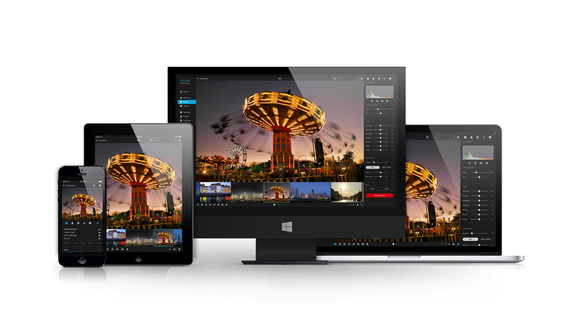 It's easy to capture digital memories, but managing all those photos and videos is a galactic drag (after all, there's no fun in workflow). Unless you're a pro photographer, it's hard to force yourself into good habits around renaming, keywording, organizational, and most importantly backup. If you don't, you can lose a lifetime of memories, plus it's impossible to find specific photos because they're stored across various computers, iOS devices, external hard drives, bras (kidding!), and social media sites. Heck, you've taken a slew of photos you've not yet seen.
Enter Mylio, a database-driven, nondestructive editing and syncing app launched in October 2014. It's designed for anyone who takes pictures (hobbyists and pros), managing all your photos--iPhone, Facebook, point-and-shoot, DSLR, whatever--in one place, side by side. Mylio also syncs your photos among the desktop, iOS, removable, and remote devices you tell it about, so your entire collection is always backed up and accessible in multiple places. You can edit, share, and export photos using Mylio, too. Sound too good to be true? Let's find out!
Importing and syncing
Once Mylio is installed on your Mac, you can import photos from your hard drives, CDs or DVDs, iOS devices, Adobe Photoshop Lightroom, Facebook (including photos taken by others that you're tagged in), your Instagram album on Facebook, Flickr, and iPhoto (full Instagram support is forthcoming). Importing photos from folders on your hard drive is fast and you can choose to add, copy, or move them; adding photos doesn't duplicate them and keeps your existing hierarchical structure intact (choosing copy or move places them in Mylio's own directory).
In my testing, importing from iPhoto takes longer. It took a couple of hours to copy 26,000-plus photos, and my Mac crashed due to memory depletion, though after restarting and launching Mylio, the import picked back up and finished without a hitch.
Importing from Lightroom takes a little forethought. If your Lightroom catalog lives in a parent folder containing subfolders of photos, it's best to use the "Add folder" function instead of "Import from Lightroom." That way, Mylio references the same location that Lightroom uses, enabling you to pass images to and fro. Once you use the "Add folder" function, or import from an iOS device's Camera Roll, that folder becomes a "watch" folder; add more photos to the folder and they're automatically imported into Mylio, which is huge for both pros and hobbyists (imagine having an export preset in Lightroom that sends processed images to a watch folder, or dragging email attachments into a watch folder on your desktop).
Syncing photos to other devices, local or remote, is fairly easy, too, though a fast wireless network is best. If it's an iOS device, download the app and sign into your Mylio account, then sync your Camera Roll and the watch the photos you imported into Mylio on your Mac immediately begin to appear on the device (slick!). You can also sync to local or remote computers and external drives.