Microsoft's dropped a huge Windows 10 Preview Build 15002 ahead of the Creators Update
Let's put it this way: It's too big for a single article.
Blue-light management headlines Settings changes
The negative effects of blue light at night aren't well understood, but studies have suggested possible links to both obesity and cancer, as well as a disruptive effect on the circadian rythyms that help us sleep. Build 15002 now allows you to automatically lower the amount of blue light your PC emits after a given time, via a new menu within Settings.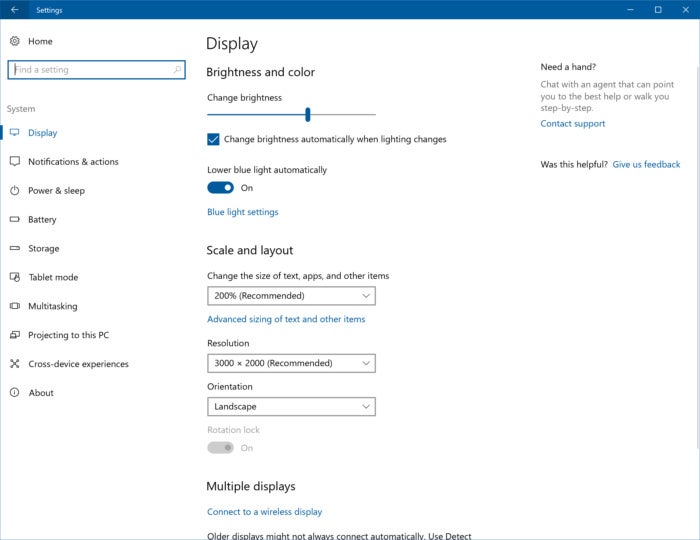 That's just one of a number of Setttings pages overhauls. You'll probably be equally pleased with the updated Display Settings options page, which restores the screen resolution controls to a prominent position.
You'll also find a new settings page for the Surface Dial, better theme management, and even an option to control "cross device" experiences—letting apps on your phone, for example, talk to the comparable apps on your PC. (Note: Microsoft said a bug in the new build currently prevents Cortana from working across your phone and your PC.) Finally, there's a new Touchpad Settings page, where you'll be able to create new groups for three- and four-finger swipes, and discover new gestures.
Changes to Narrator and accessibility
Microsoft adjusted the Narrator shortcut to make it more "intentional" (and less easy to trigger accidentally) by changing it from Win + Enter to CTRL + Win + Enter. Narrator has also been added to the WinPE Windows setup environment, as well as the WinRE recovery environment. Braille support is en route to Windows 10, though it's not quite functional, Microsoft said.
There are even more changes under the hood of the new build, including a new Green Screen of Death. Stay tuned for our additional coverage!
Previous Page 1 2 3