Microsoft shows off cloud-based physics rendering and virtual reality via Internet Explorer
Company takes a page out of OnLive's playbook.
Thunder in the cloud
It could be argued that the notion of cloud gaming originated at Microsoft. Steve Perlman, who founded the cloud-gaming company OnLive, oversaw the development of Microsoft's WebTV set-top box. OnLive changed hands last year, and Perlman left the company.
OnLive uses dedicated servers to run demanding 3D games, streaming the action to client PCs over the Internet. Microsoft's Cloud Assist appears to render physics on Microsoft's servers, lending realism to the scene without actually controlling it.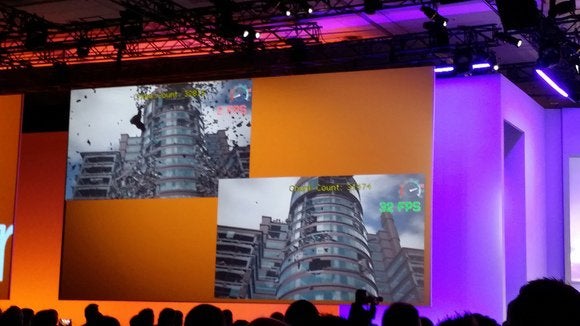 Microsoft's Cloud Assist technology in action.
The demonstration that Guggenheim and Shewchuk showed involved a simulation firing rockets into simulated buildings, which then exploded. The duo showed the scene rendered on a local machine, which crawled along at frame rates in the single digits. They then added Cloud Assist, which improved performance dramatically.
"What we're seeing is that the power of the cloud makes all things possible," Shewchuk said.