Microsoft Office 2016 review: It's all about collaboration
Go team! That's what Office 2016 is built to encourage, with new collaborative tools and other ways to tie workers and content together.
Planner Hub does provide a bright, informative set of "charts" that actually tracks the status of each project by task. Click on each category to drill down to the specific task at hand. A bar chart also allows you to see the number of tasks each individual has assigned to them, a nice way to ensure the available resources are used correctly. There doesn't seem to be any limit to the number of projects that can be managed at a given time, and Planner Hub is free with Office 2016, versus the monthly fee other services charge.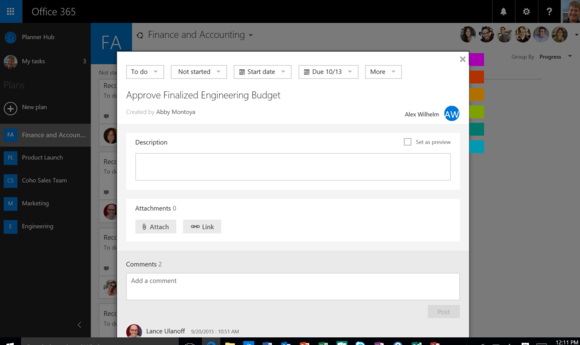 Managing a task inside the Planner Hub. Credit: Mark Hachman
It's not immediately apparent how you connect Planner Hub with Outlook; as it turns out, adding a task in the Planner Hub sends an email to Outlook with the assignment. And, of course, there's a complete lack of mobile app integration for Planner Hub at the moment, a shortcoming Microsoft will have to quickly rectify to compete in this space.
Many of the other applications within Office integrate quite closely with Skype for Business, the app that essentially replaced Lync last year. Planner Hub doesn't. In fact, there doesn't seem to be any way to connect with someone involved with a task except for email. Skype offers you a nice, clean interface to chat with a colleague, share files, and even share your screen (although this feature lagged a bit when I was chatting with Microsoft representatives). In this sense, Planner Hub feels unfinished—which I suppose it is.
Microsoft told me that it sees Planner Hub and Groups as the avenues of private, intra-team conversation, and Yammer as the means to communicate hitting milestones to the rest of the company at large.
From my personal standpoint, I can see PCWorld using Groups to invite attendees to a CES planning session, sharing a meeting calendar, using a shared OneDrive folder for images and press materials, then dissolving it after the show finishes. That sounds very useful.
What worries me a bit, however, is that Groups seems to assume that one person equals one job. In a large organization, that may be true. But some of the appeal of Groups is the ability to form a Group as one needs it. At a business employing 60 people, you could conceivably have a number of groups with different combinations of a handful of people, but focused on different tasks.
Formalizing numerous, different interpersonal group relationships with shared calendars, emails and the like—and then trying to figure out what to do with them as time passes—well, it seems like it could all become very complex, very quickly. And that doesn't even begin to take into account permissions: whether an engineer will need to be granted the appropriate permissions to see sales data, or if partners can be invited in to assist with a marketing campaign.
Previous Page 1 2 3 4 5 6 7 8 9 10 11 12 13 14 Next Page