Microsoft Office 2016 review: It's all about collaboration
Go team! That's what Office 2016 is built to encourage, with new collaborative tools and other ways to tie workers and content together.
As you and your teammates plan and move forward on your various projects, Delve and Outlook's Planning Hub help manage the effort. Both are (or will be) web apps.
Delve is sort of an odd fusion of OneDrive and Lync. One portion of it is devoted to surfacing relevant documents that you know are buried somewhere in your Outlook folders, while the other will show you more information about a particular colleague, such as her resume and where she sits in the organizational hierarchy. (If you open a contact card in Outlook and view the Sharepoint profile, it will open this Delve page.) I couldn't care less about where a coworker went to school. But in my own workflow, Delve automatically shows me the documents I use most frequently.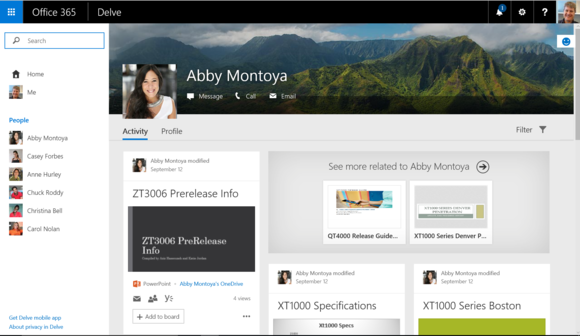 Delve's profile view. Credit: Mark Hachman
I'm torn on Delve's usefulness. Quite frankly, I think that there's a case to be made that if Delve needs to exist, then something in modern business (or in Office) is broken. Delve does find documents I need, and I like that—but it also displayed a flurry of test documents I had created and will never use again. Not so great. And I really don't understand the concept of the standalone Delve mobile app—I can surface relevant documents, but I have to go to another app to contact people about them? Finally, Delve is also only good for finding attached documents—if a co-worker dropped a critical bit of information into an email, you're out of luck.
Microsoft also showed us a Web app that apparently will ship a bit later: the Outlook Planner Hub. Eventually, Planner Hub will be one of the options that you can access from the "waffle" menu in the upper right-hand corner of Office365.com, along with Web-app versions of Outlook, Word, Excel, OneNote, Delve and more. In the preview build we were given, I had to navigate there from a fake email sent to my demo persona.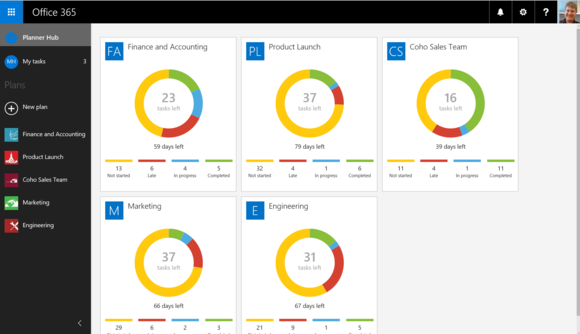 Planner Hub's overview screen shows you who is working on what, and how much has been accomplished. Credit: Mark Hachman
Planner Hub is Microsoft's entry into project management. Its card-based format reminded me a bit of Trello, although the functionality is probably closer to Zoho Projects. Visually, it's a stunner. On my demonstration Surface, I was able to create tasks, assign them to individuals to be due on a given date, and upload any files or links that would be relevant to the task at hand. I didn't see a way to file a given task to a superior, though, or to apply any sort of metrics as to how well it performed.
Previous Page 1 2 3 4 5 6 7 8 9 10 11 12 13 14 Next Page