Microsoft Office 2016 review: It's all about collaboration
Go team! That's what Office 2016 is built to encourage, with new collaborative tools and other ways to tie workers and content together.
Clutter isn't perfect: It tries to determine what you want to save and what's irrelevant, but you'll tend to find some email you'd want to read in the Clutter folder. (You can turn it off entirely if you so choose.)
The flagship feature of Outlook 2016 is a new Groups feature, which carves out a portion of Outlook—and Office, to a lesser extent—into a series of small, flexible teams that you or a colleague can create. Instead of exchanging emails, the dynamic here is more conversational. But that's not all: Groups interacts with a Web app that Microsoft calls the Planning Hub (sort of an online version of Trello) as well as its new app for surfacing enterprise content, Delve. So it probably makes the most sense to view them as a cohesive whole.
But wait, there's more collaboration: Outlook Groups, Planner Hub, and Delve
If you're a typical Outlook user, your left rail in Outlook is already jammed with various folders: Sent Items, Deleted Items, Important, Starred, and many more. At the bottom, Outlook now adds Groups.
Groups can represent an ad-hoc team formed to hammer out a feature request, an entire sales organization, or anything in between. In previous versions of Office, you could create an email alias, such as "West Coast Edit," that stood in for this. But with Groups, you can create a shared calendar and OneDrive, then track the progress of various group projects via the Planning Hub.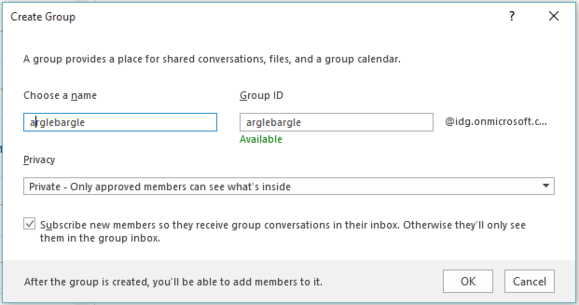 Creating a Group inside Office 2016. Credit: Mark Hachman
It's not immediately obvious how to form a Group. I right-clicked the Group label to form one. (An admin can also take care of this for you.) Outlook asks you to create a group name, and at least in my organization, assigned it its own email address. For now, much of this takes place at Outlook.com, in a Web browser. Using it via Chrome gave my boss some problems, but Edge worked fine.
In general, I like Groups, if managed appropriately. Microsoft put some thought into how Groups messages are passed, allowing you to send in-Group email (known as Conversations) into your general Outlook inbox—or in its own workflow. Outlook already offers a number of ways to connect with contacts, via messaging Skype, email, or phone. Some people want to see all that communication in a single, unified interface; others want to break it out into discrete conversations. Groups allows you to do both.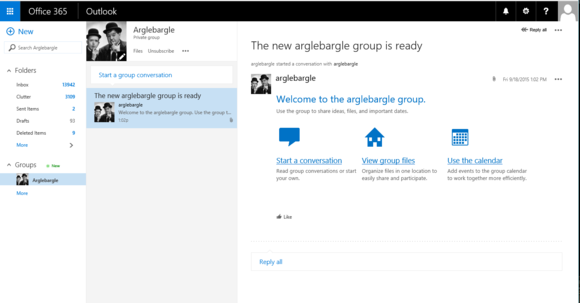 This took me just a few minutes to create, and it looks great. But there's a formality to it, too. You'd probably still want to use Facebook or a social network to plan a lunch outing, while Groups works better in a business environment. Credit: Mark Hachman
Previous Page 1 2 3 4 5 6 7 8 9 10 11 12 13 14 Next Page