Microsoft Office 2016 review: It's all about collaboration
Go team! That's what Office 2016 is built to encourage, with new collaborative tools and other ways to tie workers and content together.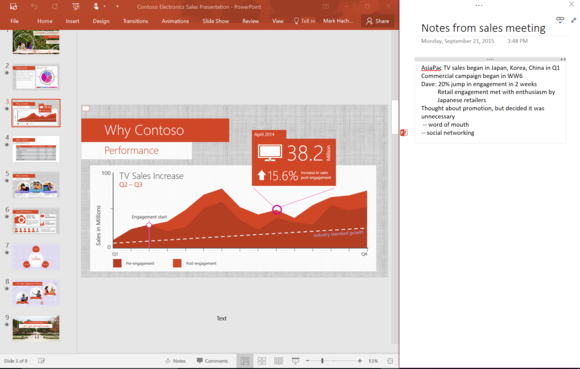 Linking documents to OneNote is easy, but you have to link the source document (in this case, PowerPoint) to OneNote, instead of the other way around. Credit: Mark Hachman
A linked OneNote note can be a bit confusing. In a OneNote note, you can add a hypertext link to a Web page that allows you to jump directly to that site. But what a linked OneNote note does is create a separate window pane that allows you to reference another document or Web page as you're reviewing your notes.
In some sense, this duplicates your working environment. Imagine your boss discussing a grant proposal. ("Oh yeah, he was talking about this Word document when he said this.") With Linked Notes, you can open that document, link it to a note, then begin typing commentary. When you review those notes, OneNote knows that you were referring to the Word document and can bring it up. If your boss then moved on to a PowerPoint document, you can link that too: moving your focus as your boss shifts gears. (Excel isn't supported, yet.)
OneNote linking doesn't apparently allow you to highlight a word or page of a document. It links to the document, which opens in a separate window, not a pane. And, of course, it would be nice if the feature were ubiquitous across Office. But with markup, live collaboration, and OneNote linking, Office 2016 should make it easier to recall earlier meetings that have blurred together.
Outlook has a new job: The collaboration hub
Normally, Outlook would seem to pale compared to the leading lights of Office. At one time, email was both the medium and the metaphor for managing business relationships. Now, however, modern social networks threaten that model—and Microsoft has no answer to that. Nevertheless, Outlook remains the connective tissue for many of the Office apps, and now it's the hub of Microsoft's collaborative vision.
Microsoft has added a number of small conveniences to Outlook 2016. For one thing, if you want to add an attachment, Outlook pulls down a list of recently used and modified files across all of the Office applications. If you want to email an enormous file (say, 700 megabytes) Outlook will email a link to the file stored in OneDrive, rather than clogging your network and mail folders by emailing the file itself.

The new Outlook Groups, within Outlook 2016.Credit: Mark Hachaman
Microsoft also added a more important addition, Clutter, a sort of second-level spam folder. Clutter, which has been available on the Outlook.com Web app for months, takes work email it deems unnecessary (notices for a fun run; "donuts in the break room!" and the like) and puts them in a dedicated Clutter folder.
Previous Page 1 2 3 4 5 6 7 8 9 10 11 12 13 14 Next Page