Microsoft Office 2016 review: It's all about collaboration
Go team! That's what Office 2016 is built to encourage, with new collaborative tools and other ways to tie workers and content together.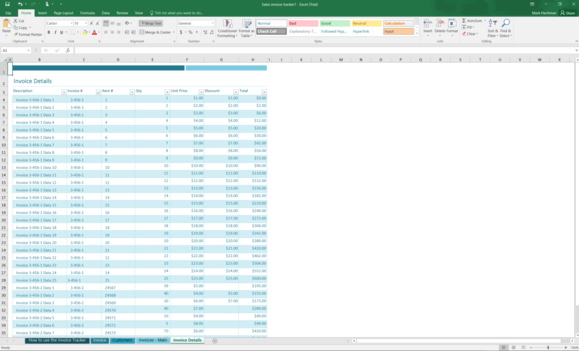 The look and feel of Excel 2016 remains largely unchanged from previous versions. Credit: Mark Hachman
Under the hood, numbers wonks are going to find lots to like in Excel 2016, with pivot tables that can handle dates, plus new charts and graphs that emphasize business intelligence—the new watchword for Excel. Excel 2016 also adds the ability to forecast results, extrapolating revenue growth, for example, a few years down the road. You'll also find Power Query, an Excel feature that lets you pull in "live" sources of data from databases and Web pages, or your own corporate data. I rather like a feature that allows you to write equations by hand—handy on the Surface—although the recognition algorithm is still a little wonky.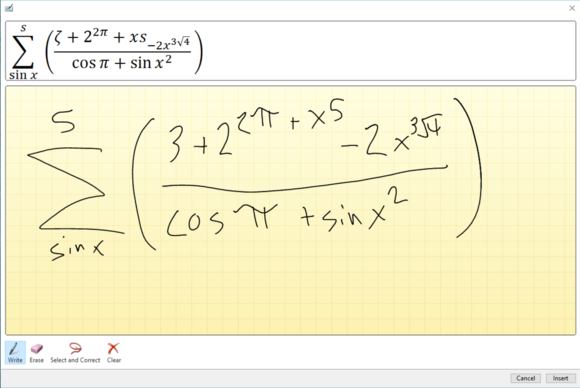 You have to write equations with a bit of care (note how Excel misinterprets the number '5'), but this new feature works pretty well. It learns from context, so if you keep writing it may self-correct errors. Credit: Mark Hachman
I'm not sure why Power Pivot, Power View, and Power Map—all tools that make up Microsoft's business intelligence vision—are off by default (you can enable them in the Settings menu). It's also not clear whether Microsoft was able to to fix a bug that prevented Power Queries from being updated on the older Excel 2013 by the release date. What you'll probably be happy to find is a hefty number of preformatted templates that allow you simply to plug in numbers, rather than creating a template from scratch.
Note that Excel (and PowerPoint) use staggered, turn-by-turn, quasi-real-time collaboration. I'm told, however, that changes are coming to each of these apps to enable Word's real real-time collaboration.
Word: More context, for richer documents
Word is the other tentpole application in Office, and it, too, is reassuringly the same for the most part. Microsoft's particularly keen to sell users on one new feature: Smart Lookup, also known as Insights.
Right-click a word or phrase in Word 2013, and a limited number of options pop up: a small formatting window, as well as options for spelling, linking the phrase, and checking grammar. In Word 2016, you get more—including options to translate the word or phrase, find synonyms, and so on.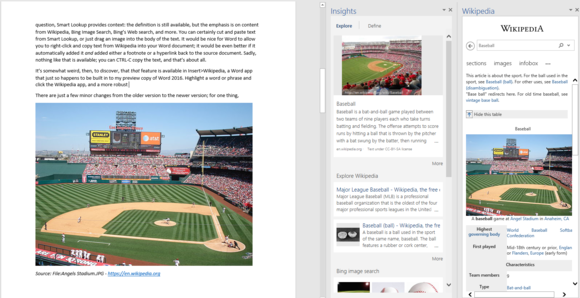 A comparison between Smart Lookup and the Wikipedia app. Note that the attribution is automatically appended via Wikipedia. Credit: Mark Hachman
With Office 2016, Smart Lookup takes the Review > Define command from Word 2013 and supercharges it. With both the old Define and the new Smart Lookup, a right-hand pane provides additional information. But whereas Define used Bing to explain the word in question, Smart Lookup provides context: the definition, plus content from Wikipedia, Bing Image Search, Bing's Web search, and more. You can cut and paste text from Smart Lookup, or drag an image into the body of the text.
Previous Page 1 2 3 4 5 6 7 8 9 10 11 12 13 14 Next Page