Microsoft Office 2016 review: It's all about collaboration
Go team! That's what Office 2016 is built to encourage, with new collaborative tools and other ways to tie workers and content together.
My advice to an individual, family, or small business owner: Wait. If you've never owned Office, the free Office Mobile apps that can be downloaded from the Windows Store are very good—and include some of the intelligence and sharing capabilities built into Office 2016. Microsoft's Office Web apps do the same.
There's no question that Office 2016 tops Google Apps, and I haven't seen anything from the free, alternative office suites that should compel you to look elsewhere. But Microsoft still struggles to answer the most basic question: Why should I upgrade? That's a question that I think Microsoft could answer easily—and I'll tell you how it can, at the end.
Before that, here's what works, and what doesn't, in Office 2016.
Excel: Still indispensable, now more helpful
Microsoft can't mess too much with Excel, which is the most indispensable component of Office. Entire professions essentially live on Excel as their everyday tool.
Like modern calculator apps, however, Excel must meet the needs of a disparate group of individuals: statisticians, financiers, and data scientists, to name just a few. One new feature (also available in PowerPoint and Word) stands out: a small box in the ribbon that says, 'Tell me what to do.'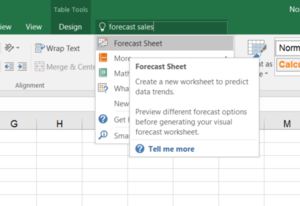 The 'Tell me what to do...' feature cuts right through any confusion in Office 2016. Credit: Mark Hachman
The 'tell me' box is essentially a search box, much like Bing. But while Bing or the Smart Lookup feature adds context around the phrase in question, the 'tell me' box cuts through the numerous menus and submenus. If you'd like to know how to justify a group of cells, for example, you can begin typing 'justify a group of cells.' Excel will begin making suggestions that change as you continue typing. You can also choose to look for help on that specific topic, or do a Smart Lookup search instead. What the 'tell me' box does, though, is simply to do what you tell it to.
That's both good and bad, in my book. While 'tell me' takes you directly to a command, it doesn't tell you where that command is located. So if you want to perform that command again, you're none the wiser.
I've typically thought of Excel, like PowerPoint, as an offline application. Not any more. Not only does it make more sense to post a link to an online workbook that others can use and manipulate, the complexity of these documents means emailing them back and forth simply isn't practical. Instead of interacting with a document, Excel users now have a virtual workspace. I was also a little shocked to notice that Excel loaded only a handful of templates if I wasn't connected.
Previous Page 1 2 3 4 5 6 7 8 9 10 11 12 13 14 Next Page