Microsoft Office 2016 review: It's all about collaboration
Go team! That's what Office 2016 is built to encourage, with new collaborative tools and other ways to tie workers and content together.
Office 2016 continues to leave you in the dark about what it's adding, although a slightly tweaked dashboard will apparently serve to introduce you to Office's improvements. But Microsoft needs to sell Office to you, rather than simply assume you'll buy it.
How? By educating the user on how to use Office.
Office 2013 and Office 2016 do a nice job of explaining what random menu items actually do via tooltips: In Word 2016, for example, you can hover over "Theme fonts," for example, and be told "This is an easy way to change all of your text at once. For this to work, your text must be formatted using the 'body' and 'heading' fonts." Then there's a "tell me more" link that provides a fuller explanation, using text and graphics, on how to change theme colors, create your own, et cetera. It's just a help file, but a pretty good one.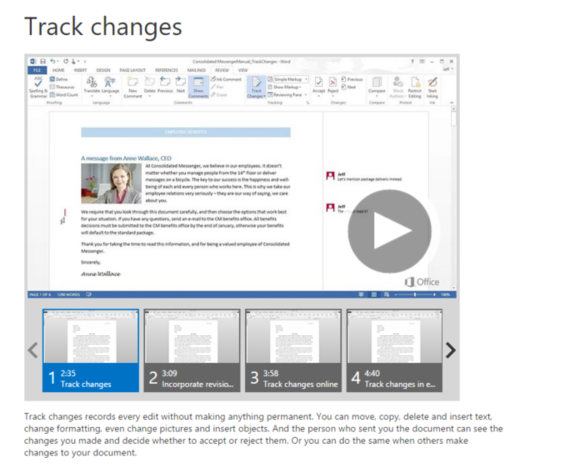 This Microsoft tutorial video is somewhat of an ugly example. But with better promotion of what you can do with Office, adoption should only increase. Credit: Mark Hachman
I think that Microsoft needs to take the next step, though, and start showing, rather than telling, how users can use these features to best effect. The obvious tool, of course, is video – whether they be just generic MP4 videos or something a bit more interactive, such as Microsoft's own Office Mix. In any event, I'd like to see a list of document templates when I open Word – but also a video tutorial on how to create my own.
If Office is now online and connected, take advantage of it! Let me open up Word and see a list of videos next to those templates: the basics, such as "What is a pivot table, and why should I use it?"; to more advanced topics, such as "Why live data should be included in your paper – and where to find it." Rotate them. Add new ones. Microsoft has a stable of how-to videos – here are video tutorials for Word 2013 – but very little education on how to use the features they describe. Show me how, but also why to use Office. Put those videos in Word itself, showcasing what's live and useful. Connect those videos to the tooltips. Consider embedding a live video thumbnail in the app itself.
You begin to see this verve, this liveliness, in Delve and Sway. Documents breathe. But in the stock apps—Excel, PowerPoint, Word—that legacy feels like a boat anchor. Office is 27 years old, people, and it still feels that way.
Previous Page 1 2 3 4 5 6 7 8 9 10 11 12 13 14 Next Page