Microsoft Office 2016 review: It's all about collaboration
Go team! That's what Office 2016 is built to encourage, with new collaborative tools and other ways to tie workers and content together.
If you'd like, you can also visit Office.com and try out some of the Web-based versions of Office. Yes, it's another version of Office, and largely redundant, too. But—and this is somewhat important—the Web apps will be one of the first platforms to receive new features, precisely because they can be updated on the fly. Features like Clutter, which I really like, debuted on the Web months before the dedicated apps. The same goes for saving documents into Dropbox: You can do that via the web apps, and even Office for iOS and Android, but not Office 2016, yet.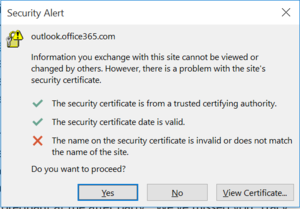 I'm not sure what went on here, but apparently my browser felt there was a problem with Office365.com. Credit: Mark Hachman
You do make a sacrifice or two in choosing the built-in Office Mobile apps. You can only work on one document at a time. The real-time collaboration Microsoft boasts about? Not there, although you can still track changes as before. OneNote Mobile also lacks one of my favorite features: voice recording. More and more features have trickled down to the free versions, but there's still value in paying for the full Office suite.
The future of Office: what makes it great?
If you've skimmed through this review, I bet that you focused on just a section or two, because you don't use all of Office to its full capabilities. Office has become siloed: Writers use Word religiously, while number-crunchers plumb the depths of Excel. Sales and marketing gurus live in PowerPoint. A generalist might be able to gin up a basic spreadsheet, but stop short of fancier techniques, such as pulling in live, disparate data sources to support a proposal.
The future of Office 365, then, depends on compelling as many potential Office customers as it can to say, "I didn't even know it could do that." Alas, Office 2016 barely, barely accomplishes that goal.
I can tell you what's new in Office 2016—and if you look closely enough, you can notice many of the new features yourself. But what are they? And what are they good for? These are two questions Microsoft simply assumes you already understand, and that's a dangerous assumption to hang a multi-billion-dollar business upon.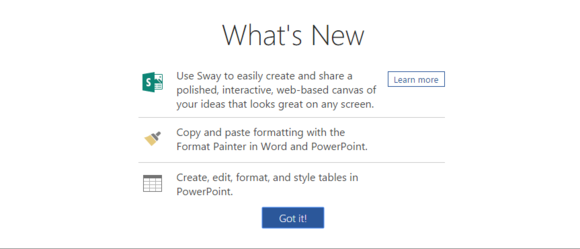 Word Online tells you what's new. So why don't the Office apps?Credit: Mark Hachman
Microsoft would love for you to subscribe to Office 365, and the company promises a steady stream of monthly improvements to keep you hooked. But what are they? Office 2013 never told you. You'll have to dig out Office 365's upcoming feature roadmap to find out—and what's on the list seems awfully trivial. Office 365 Home allows you a license to install on five devices, five tablets, and five phones, plus a terabyte of free storage. But it's been almost a year since Microsoft promised unlimited OneDrive storage, and it still hasn't happened.
Previous Page 1 2 3 4 5 6 7 8 9 10 11 12 13 14 Next Page