Microsoft Office 2016 review: It's all about collaboration
Go team! That's what Office 2016 is built to encourage, with new collaborative tools and other ways to tie workers and content together.
Access and Publisher: Increasingly minor apps
Sway may be one of Microsoft's first blended apps, but Publisher really feels like a subset of Word, not an app worth reserving for Office 365. Publisher's territory is being encroached on, anyway. If you want to produce a flyer, or a brochure, or business cards, Publisher's your app. There's even a template for a baby photo album. But you can see that all of these products could be made in Word, or via a Web app or online service.
The Access database app is to Excel as Publisher is to Word-a corollary app that I'm sure some people feel strongly about, yet nobody seems to use. Case in point: this unanswered Microsoft support thread, asking about what's new in Access 2016 -with all of seven people chiming in. Access has the look and feel of the other Office 2016 apps, but that's about all.
Microsoft also tells me that Project and Visio are in the full releases of Office 365, but we didn't have access to them to test. That's not the case for Office Mix, which is still in private preview.
I'm sure there are a number of people who can speak knowingly about how databases are more useful than a spreadsheet, but Microsoft seems to have put all of its effort into improving Excel. I was also a little concerned about this error message, which I discovered on checking a Microsoft-authored template for version information: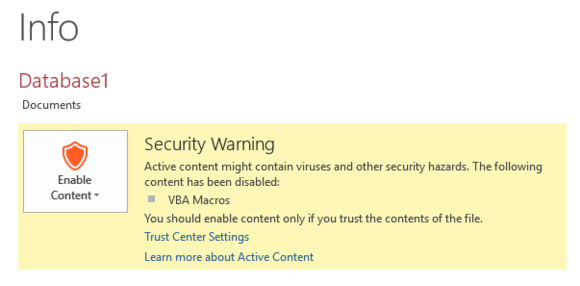 Access 2016 displayed this odd security warning. Credit: Mark Hachman
I mean, isn't the whole point of Office 2016 to use live, active content?
A free alternative: Office Mobile, web apps
Office 2016 has another problem: the Office Mobile apps. Free, ubiquitous, and simple to use, it's often worth loading up the Excel, OneNote, PowerPoint and Word Mobile apps first, then dropping into Office 2016 only if necessary. After all, if your document is saved to OneDrive, you can easily pull it up in either Word Mobile as well as Word 2016.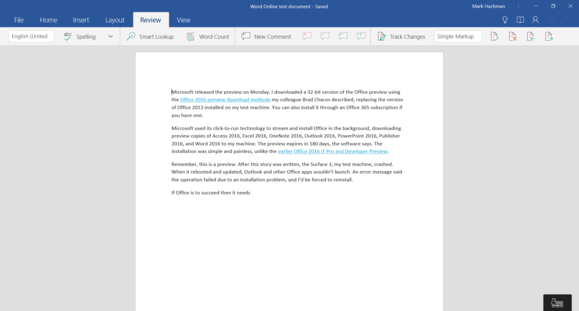 No, the Office Mobile apps don't have as much to offer as Office 2016. But there's a lot there for the casual user, too. Credit: Mark Hachman
Granted, you're not going to find much of the nuance and complexity found in the paid Office apps. But for my own use, I prefer using Excel Mobile to Excel 2016, precisely because my needs are basic. Summing a column is performed automatically, for example. In Word Mobile, I can track changes, check spelling, add footnotes, and even perform the Smart Lookup function built into the paid version of Word.
Previous Page 1 2 3 4 5 6 7 8 9 10 11 12 13 14 Next Page