Microsoft Office 2016 review: It's all about collaboration
Go team! That's what Office 2016 is built to encourage, with new collaborative tools and other ways to tie workers and content together.
Sway
We've previously dubbed Sway one of the first of a new generation of "blended apps," lifting elements from Word, PowerPoint, and more and combining them in a way that feels interesting and fresh. Sway allows you to create a newsletter-esque layout that emphasizes graphics, with photos used as backdrops and transitions sliding in to introduce new sections. It's simplistic, yet effective. Here's one I whipped up.
You create Sways in a layout or "storyline" mode, where you embed text, images, videos, tweets, and charts in a card-based motif that's not altogether intuitive to someone used to laying out images and text in Word. It's sort of a WYSIWYG approach, as you can see the changes applying themselves to the "final" document that's visible to the right on the screen. There's some noticeable lag, though, and I'm not a fan of the sliding transitions between the preview and storyline modes.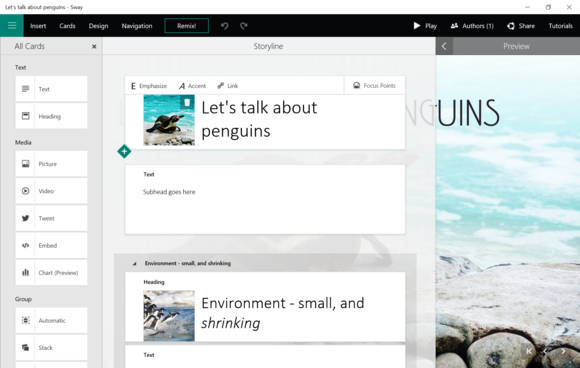 Behind the scenes, Sway uses a card-based 'Storyline" mode that takes a bit of getting used to. Credit: Mark Hachman
Fortunately, you don't have to think that much, as Sway itself selects what it thinks might be a good font or color scheme, even coordinating them to certain images. You can even select "focus points" for a given piece of art, though I'm not sure what that does, exactly. And if you don't like it, you click Remix, and Sway will select a new font and design on the fly. As someone who doesn't have a great eye for design, the additional suggestions were welcome.
Sway starts out simply enough: You pick a title and a backdrop image. Embedding an image is as easy as typing a search term in a box, then letting Bing or PicSay find a Creative Commons image for you. (There's no attribution, however—not a great lesson for up-and-coming students.) But if you want a subhead, or even a text box to put your name on the report, there's no obvious way of doing so. Then again, if you're sharing the Sway, and not printing it out, it should be fairly obvious who authored it.
Sway is designed for the modern Web, and sometimes it becomes a bit pretentious in that regard. I'm totally on board with Sway's autosave feature—in fact, you don't save Sway with a file name; it simply shows up as a presentation in My Sways. But when 'emphasize' stands in for 'boldface,' and 'accent' for 'italics,' it's a bit over the top. Loading the index and individual Sways also takes several seconds, and that's annoying.
Sway seems geared at the education market, but it lacks a word-count feature—one metric most teachers use. I'd also add a legacy 'print mode' to allow students to hand in a physical copy of a Sway. Otherwise, Sway is a creative use of Microsoft's development efforts.
Previous Page 1 2 3 4 5 6 7 8 9 10 11 12 13 14 Next Page