Microsoft may be quietly retiring Paint after 32 years
It's just "deprecated" for most of us, but it's already disappeared in China and India.
If Microsoft does remove Paint, it undercuts one of the chief arguments that it's repeatedly made across several versions of Windows 10: modality. For years, a keyboard and mouse sufficed to interact with a PC. But with modern PCs, voice, touch, and pen supplement—not replace!—the traditional ways of doing things. Windows and the Command Line live in peace; why not Paint and Paint 3D?
Alternatives to Microsoft Paint
Admittedly, Microsoft has extracted certain aspects of Paint, moved them elsewhere within Windows, and dramatically improved them. If you'd like to adjust your digital photos, you don't do that within Paint—the Windows 10 Photos app does a marvelous job of auto-tuning your digital photo, or letting you adjust contrast, highlights and more. Microsoft's own Fresh Paint app (sadly, not bundled with Windows 10) mimics the physical experience of painting with digital ink on a virtual canvas, even blending colors. Paint 3D hides a "magic select" tool to extract parts of an image from a background, a feature that would be terrific within Paint.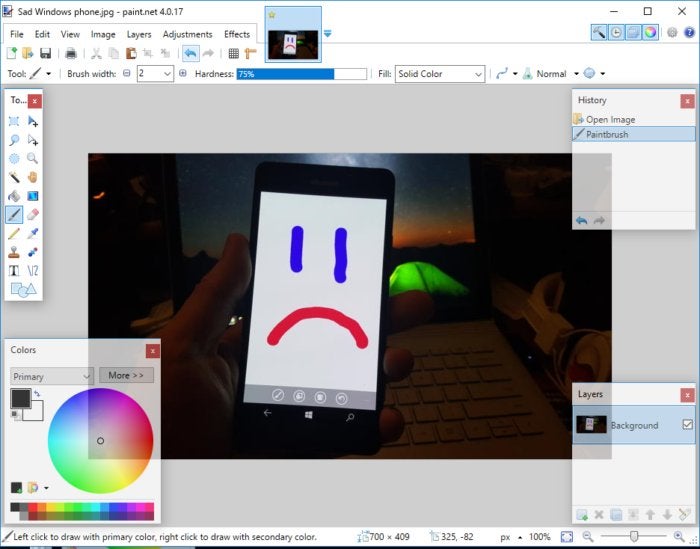 Paint.net is an excellent, nearly direct replacement for Microsoft Paint.
If Microsoft does remove Paint from Windows 10, there's a pretty good replacement: Paint.net, one of PCWorld's top products of 2007 and a free app that runs on Windows 10. While Paint.net retains the look and feel of Paint, it improves the capabilities by adding more sophisticated tools like layers.Of course, much more sophisticated—and expensive—graphics packages that go far beyond the basic appeal of Paint.