Microsoft launches Office 2016 consumer preview, pushing universal apps to Windows phones 'soon'
Want to try out Microsoft's Office 2016? Now you can. And if you own a Windows 10 phone, you can soon download the universal Office apps as well.
Belfiore even showed the capability for users to be able to right-click and encrypt documents according to the company policy. And if a file is copied to a USB key, only the file can be read, he said. "Think about the worst cases, where...documents are lost by accident. This is going to make the right thing happen by default," he said during his Ignite presentation.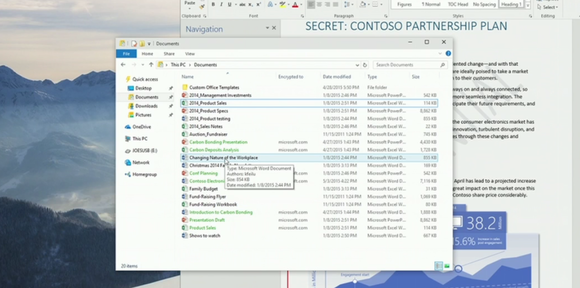 MARK HACHMAN. With Word 2016, you can mix and match sensitive company data with personal data. The sensitive data (encrypted, in this example) shows up in a green font.
Microsoft also announced Office Groups, a way for teams to collaborate inside Office applications. The company showed the Office 365 Groups "hub" in Office Delve and group conversation in Outlook 2016. Another new feature, organizational analytics in Office Delve, tracks trends such as "engagement, reach and work-life balance," Microsoft said.
"For Office, our focus is on reinventing productivity for people and organizations," Julia White, another general manager of the Office marketing team, wrote in a blog post ahead of the formal announcement. "All of the new and coming Office capabilities we showed today at Ignite extend from our belief that productivity is at the heart of business success."
Making Office apps ubiquitous has been one of the core tenets of the new Office under Satya Nadella. Microsoft highlighted the new universal Office apps for Windows 10, but said that the apps aren't immediately available for Windows 10 phones.
The release of the Microsoft universal apps for Windows phones slightly misses Microsoft's own timetable to release them by the end of April. Microsoft's new apps will essentially replace Office Mobile, Microsoft's first stab at bringing Office apps to the mobile platform. But Office Mobile was limited in its editing and content-creation capabilities, and lacked the richness of desktop apps. Microsoft claims the new apps will change that.
Microsoft executives said last month that the new universal apps will work on a "freemium" model, providing basic capabilities for free, but also encouraging users to move to an Office 365 subscription to unlock more advanced capabilities. Microsoft also said Office has been downloaded 100 million times for iOS and Android combined.