Microsoft Hyperlapse Pro review: Mac app makes awesome first-person videos
Hyperlapse produces great results, but the application sometimes feels like a beta, such as the opening splash screen with a dead Twitter feed hardwired into it.
Neither UI glitch detracts from using the software, and thankfully, the latest update addresses an issue where Hyperlapse was being finicky about processing videos shot with my iPhone 6s Plus held a certain way—with the volume buttons facing up, which has been the Apple-approved method for several years now. In the previous version, no matter how I imported these files to the Mac, videos shot this way displayed properly at first, only to appear skewed to the right and vertically flipped on the Settings tab, or when processed. I'm happy to report this is no longer an issue with version 1.5.
Super speed
The Settings tab is where most of the action happens: In addition to the Speed Control slider, users can manually select the type of camera the clip was shot with. This setting is used to help smooth motion, making it feel more like floating through the scene rather than the shaky handheld look.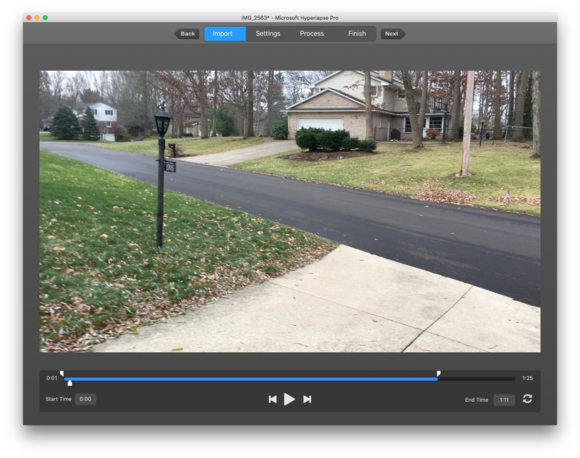 Hyperlapse can import and process most any QuickTime file, but is limited to MP4 format for output.
There are two Smoothing options: Standard offers faster processing with average videos, and it's the only option available unless you first select the type of camera used. Advanced works best with action cam footage, but in my tests produced more fluid, results at the expense of much longer processing time: A 30-second clip in Standard mode completed in three minutes, for example, while Advanced added another 14 minutes to the process.
Users can also manually configure output frame rate and resolution, and in version 1.5, the software engineers corrected an earlier issue where the Settings labels appeared swapped. (The frame rate pulldown menu was labeled Resolution, and vice-versa.) I also tested Hyperlapse with 4K video shot on the iPhone 6s Plus, and to my surprise, the software offered native export resolution alongside a 1080p HD downscale option.
Although the Pro upgrade removes watermarking from processed videos, both versions of Hyperlapse are limited to saving MP4 files. I was able to import higher-quality ProRes video—which at first appeared blank on-screen until I fiddled with the trim controls to refresh the thumbnail—but there's no way to save content out the same way, let alone any other QuickTime format.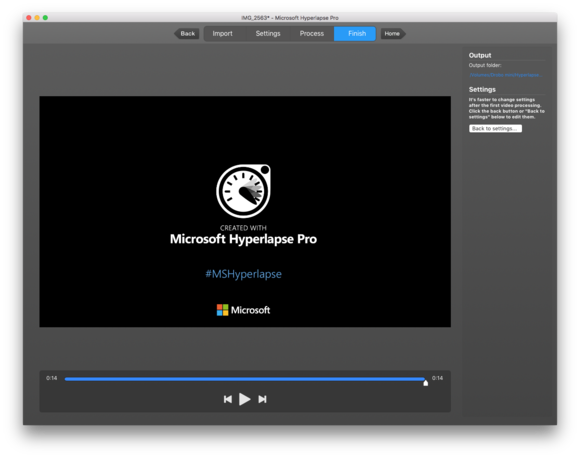 Both free and Pro versions of Hyperlapse offer the option to end videos with a Microsoft plug, but this can be disabled from the Settings tab before processing.
Bottom line
Microsoft Hyperlapse Pro creates smooth, stabilized time-lapse from first-person videos shot with smartphones and action cams, but the software feels rushed to release without the quality control team getting a good look at it first.