Microsoft goes after Slack with new Teams service
Live chat service makes it possible for people to work together
Workplace collaboration has become increasingly focused on chat in the past couple of years, and Microsoft is jumping into the new space with both feet, launching a new product it calls Teams.
Teams allows groups within a company to divide into subgroups and then set up individual channels to discuss their work. The chat-based workspace is designed to integrate deeply with the rest of Microsoft's Office 365 productivity suite, including OneDrive and Skype, for file sharing, voice and video chat. The application is available in beta starting Thursday on the web, Windows, Mac, iOS and Android.
It's a move by the tech titan to better compete with Slack and HipChat, two high-flying group chat programs that are designed to make people more productive at work by creating communal space for people to discuss what's going on at the office. Microsoft previously held that Skype for Business — its enterprise communications software that was previously known as Lync — was the answer for Office 365 users interested in workplace group chat.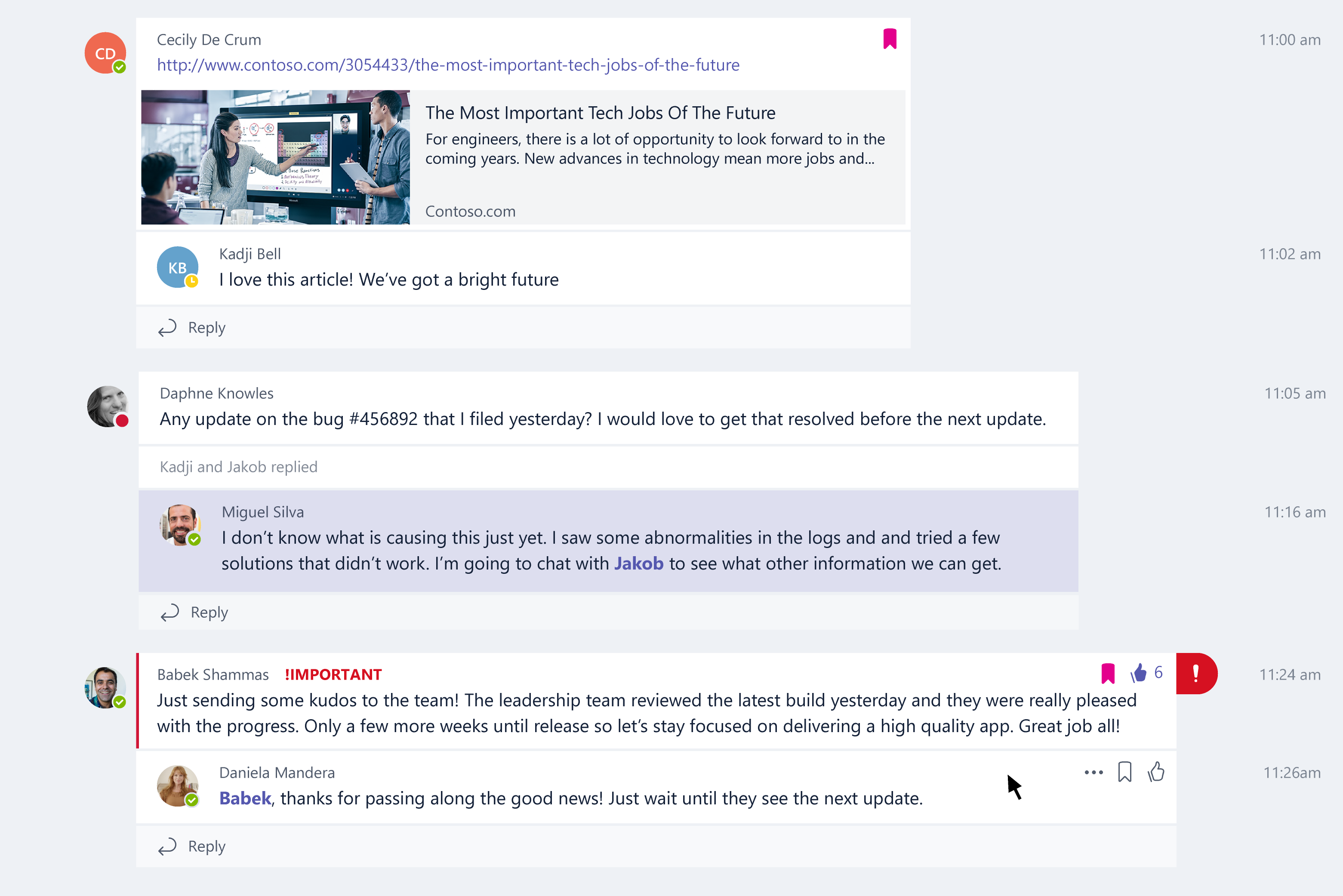 Microsoft
Threaded conversations in Microsoft Teams let users hold multiple conversations in the same space at the same time.
Microsoft's new product is closer to a set of threaded conversations than a wide-open chatroom — a key difference between it and Slack. What that means is users can start a conversation about a particular topic, and keep everything about that topic organized in one place. (Threaded comments is a feature Slack has promised for a while, to try and appease its users who need to have multiple conversations at once.)
An Activity tab gives users a bird's eye view of all the different conversations that are going on inside a team. It's designed to work like an inbox, so people can get a quick view of what they need to know.
Microsoft is also bringing the power of its Office document collaboration features to bear on the new service. Whenever a user uploads a document into a channel or direct message, everyone in that channel will be able to view the document live using Office Online. The same thing goes for notes saved in OneNote, too.
Users will also be able to hop on live voice and video calls with other people on a team. This feature is powered by Microsoft's Skype infrastructure, and will allow group calling, screen-sharing and more. A call will show up as part of a channel and users will be able to jump in and out as necessary.
Teams also allows companies to add tabs to channels that bring content from cloud services like Asana and Zendesk into their chat experience. That means they'll be able to do things like reference project boards and helpdesk tickets inside the same space where they're discussing all of their other work.