Meet Slack, a chat tool with collaboration talent to spare
Save your team from the chaotic mishmash of email, chat, and other discrete communication tools. Slack's file sharing and its ability to integrate cloud services make sharing information much easier.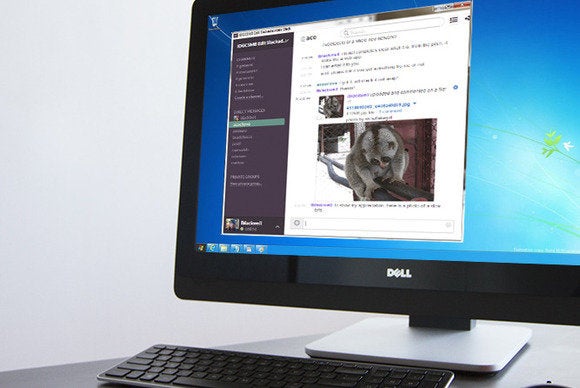 Slack could be the answer to the splintered state of most teams' communications--my team's, and probably yours, too. It's splintered because e-mail is clunky for conversations and gets clogged with attached files. Chat is faster, but its file handling is rarely up to a team's needs, and it can be difficult to search (not that e-mail is much easier).
Currently in a limited preview release, Slack works like many team messaging software apps do, but with a few big improvements: It's cross-platform. It's searchable and very customizable. And you can attach files for sharing, or move files seamlessly between Slack and a cloud service. Slack makes it easier to work without feeling like work itself.
Slack is one window worth having open
By midday, my desktop is a jumble of different windows. In each of my two browsers, proprietary tools brush against story research. HipChat is fast, but it crashes, and it's not exactly a looker. And email...ugh. Email.
Slack is much easier. Each team installation of Slack is called an "instance," and setup takes just a few minutes. A cute onscreen character called Slackbot steps you through the basics of inviting co-workers, sending and reading messages, and setting up a profile. It also sticks around on your team to help in other situations.
On the PC and Mac, Slack opens in a roomy, good-looking window. The font is legible, and the colors are soothing without being bland. You can use the airy Clean view or the more efficient Compact view. The flexpane (handy for conducting file searches or viewing your team roster while in a convo) toggles open at your command. It's not resizable, so I usually leave it closed.
Right away, you can upload files by clicking the + button to the left of the text bar at the bottom of Slack's window. If you like emoji, you can use the smiley icon in the right of the typing field to add them in either Apple or Google Hangouts style. If you don't like emoji, you can ban their display from your Slack window.
The Android and iOS clients look similar, but they're adjusted to be intuitive to those devices and make sense on a phone's narrow touchscreen. They are snappy and responsive, making it easy to have a conversation with people on different platforms.
Slack makes email irrelevant to team duties
Co-workers ping me frantically on HipChat, asking if I saw their email. Of course I didn't: It's lost somewhere among company announcements, press releases for religious-historical novels, and all the back-and-forth with others on my team. Then there's the slow, and often fruitless, process of searching Outlook for messages and files.