Make Mail and Gmail play nice
Apple's Mail is better than ever at helping you manage your email. Google's Web-based Gmail is pretty good in its own right, but how do you combine the two? David Chartier shares his method.
Since you can't fix Mail's archive behavior with Gmail accounts, and you can't tell Gmail to archive in a different folder, I propose a compromise. In Gmail's settings, under the Forwarding and POP/IMAP tab, change the setting When I mark a message in IMAP as deleted to Auto-Expunge off. Then, just below that option, change the setting When a message is marked as deleted and expunged to Archive the message. Click Save at the bottom of the page. Once you tweak settings in Mail in a later step, using the Delete key on a message will tell Gmail to archive it in All Mail. If you truly want to delete a message, you can drag and drop it to the [Gmail]/Trash folder.
Tweak your labels: In the past, if you applied multiple Gmail labels to a message in your inbox, then searched for that message in Mail, you'd be flooded with duplicate messages--one for each label, another for its appearance in the inbox, and another for its All Mail entry. But happily those days are over. Now, Mail is smart enough to map Gmail labels to different folders. For example, if you're on an email list for a hobby or your kid's sports team, you can apply a Gmail label for "T-ball" as well as a second label of "Follow Up" for messages that you can't deal with right this moment. The message will appear with both labels on the Web, or in two different folders--T-ball and Follow Up--in Mail. (Tip: to use multiple labels, or folders, in Mail, right-click a message and choose Copy To instead of Move To).
Better yet, when you search in Mail, it will show one single message from All Mail (not all the copies in different folders), unless you use the search tools that appear just below the toolbar to focus your search in a specific folder.
Once you open Mail, the new Google Account that you added to System Preferences should spring into action and download your inbox and labels/folders. To make everything work as well as possible, I recommend going to Mail > Preferences > Accounts and adjusting a few settings.
Click your new Google Account in Mail's preferences, then click the Mailbox Behaviors tab. To keep this simple, uncheck everything so that Store draft messages on the server is the only thing enabled. Close the Preferences window, which will ask you to save your changes. Click Save; now you're almost done!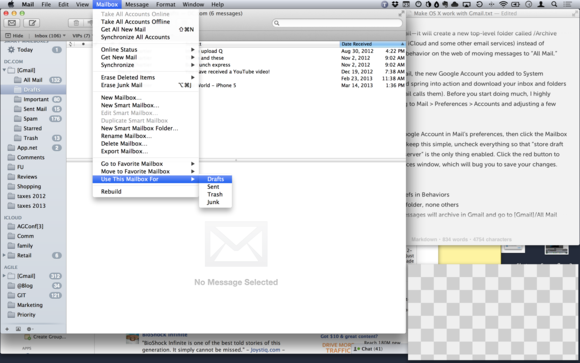 Tell Mail which Gmail folder to use for your drafts.
To ensure that you can draft messages across devices, the last thing to do is tell Mail which Gmail folder to use for your drafts. In Mail's main folder list on the left, find your Gmail account and click the arrow next to the top-most folder in it, called "[Gmail]" (yes, with the brackets). Click its subfolder called "Drafts," then go to the menu bar and choose Mailbox > Use This Mailbox For > Drafts. The folder will disappear from under the [Gmail] folder in your sidebar and move up to the main "Drafts" heading at the very top of all your folders and accounts in the sidebar, under the heading "Mailboxes." This way, Mail will save your drafts in the proper place it understands, but the drafts will also be properly synced with Gmail and your other devices.
Previous Page 1 2 3 4 Next Page