Mail in iOS 10: Under-the-radar changes make your inbox easier to manage
Mail didn't get the radical overhaul that Messages did in iOS 10, but some small tweaks are coming.
Threading settings
iOS 10 finally splits up Mail, Calendar, and Contacts into their own respective Settings tabs. This means you get more options for each, plus it cracks down on the confusion of having three totally different apps shoved into one tab.
Under Settings > Mail, there are a couple of new threading settings that will simplify inbox organization. Before iOS 10, you could organize by thread, and that's staying the same. But now, you can choose to view the most recent message in a thread at the top and view a complete thread in one threaded view, regardless of whether you moved some of the messages to different mailboxes.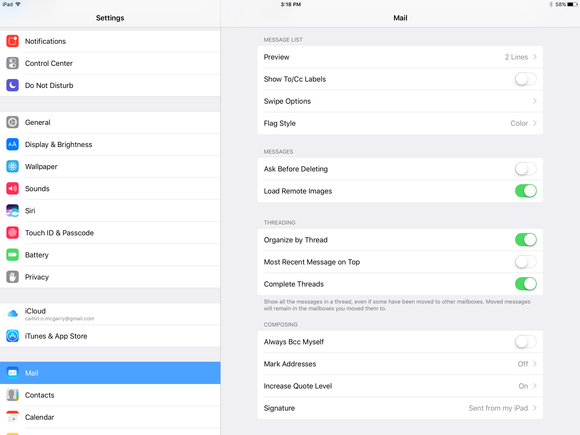 Mail gets its own tab in Settings and a few new threading options.
None of these changes are radical, but for those of us who rely on the iOS Mail app to manage our inboxes, new organization options are always welcome.
What changes would you like to see in the Mail app in iOS 10? Personally, better Siri integration would be a huge help. Now that Siri is getting more powerful (and arriving on the Mac), it would be great if I could use my voice to search for emails about specific events or from certain contacts. Right now, Siri still stumbles.
If you want to try out iOS 10 for yourself, Apple opened up the public beta program last week. Here's how to sign up and here are the features you need to try first.