Mail in iOS 10: Under-the-radar changes make your inbox easier to manage
Mail didn't get the radical overhaul that Messages did in iOS 10, but some small tweaks are coming.
Apple didn't lavish love on Mail like it did Messages in iOS 10, but that's probably for the best. Can you imagine sending full-screen fireworks, stickers, or handwritten scrawls via email? No thanks.
Mail did get a few tweaks that make wrangling the unwieldiest of inboxes easier than ever. I've been using the iOS 10 developer beta on a 12.9-inch iPad Pro for the last couple weeks, and the public beta since its launch. Here are four of my favorite new Mail features. If you've found any other changes in the Mail app, share them with us in the comments.
Unsubscribe
Like most humans with email addresses, I get an unholy amount of unsolicited mail, most of it from mailing lists that my address ended up on without my knowledge or consent. Unsubscribing for those lists requires finding the unsubscribe link buried in tiny font at the bottom of each junk email, then tapping through a variety of options to confirm you're actually 100 percent unsubscribed. No more. Mail in iOS 10 makes it easy to unsubscribe quickly with an "Unsubscribe" link at the top of each message that the app recognizes as being from a mailing list.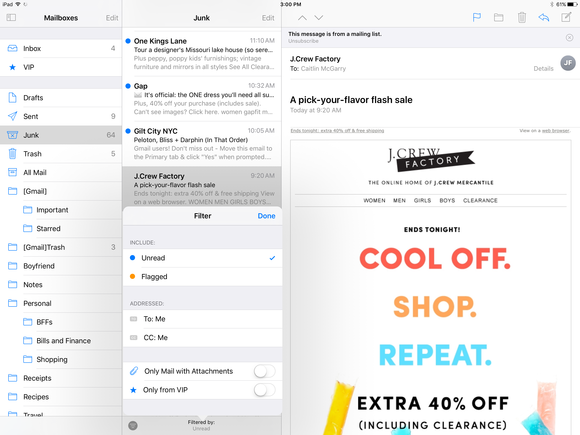 iOS 10 puts a link to unsubscribe at the top of every message from a mailing list.
Tapping that link will prompt Mail to send a message to the mailing list's "unsubscribe" address from your account. That's it. What a relief, right?
One-tap filtering
Apple has a problem with burying settings in layers of menus. So it was with filtering, which required you to choose an inbox than tap "Edit" to view unread messages or show emails with attachments. With iOS 10, Mail gets a new Filter in the update bar that lives on the bottom of your Mail screen. You might not know it by looking at it, because the new icon's three lines don't exactly scream, "Tap me to filter!" But this new shortcut is a big time-saver.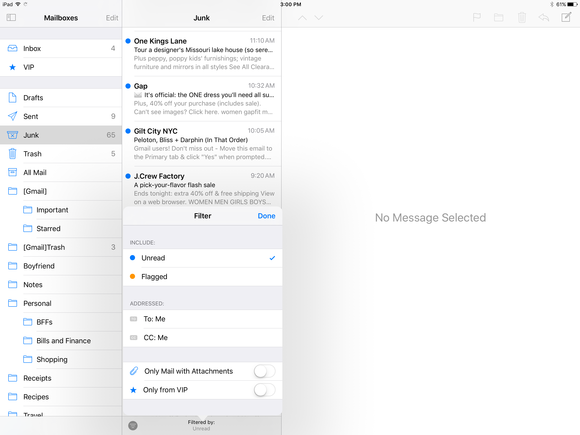 The new filtering shortcut makes finding unread messages so much easier.
New view on the big Pro
There aren't a whole lot of iPad-specific features in iOS 10, which is really disappointing. But in the next-gen OS, Apple is finally taking advantage of the 12.9-inch iPad Pro's screen real estate with a new three-pane view in Mail (as seen above). You can glance at all of your mailboxes and their respective folders in one pane, scroll through messages in the middle pane, and read in email in the far right pane. Being productive on a Pro is much easier when you can see more information at a glance, which is exactly what the three-pane view delivers. To toggle between two panes and three, just tap the new icon in the top left bar.