Macphun Creative Kit 2016 review: Critical photo editing functions delivered in one diverse app
With Creative Kit, Macphun wants to pick up where Apple's now-defunct Aperture left off.
Snapheal's three tabs—Erase, Retouch, and Adjust—provided all of the controls needed to improve the photo above. Editing tools such as crop and straighten and adjustments for contrast and clarity delivered a fine rendering of my vision of what the scene would look like.
The app comes with three erase modes, so if you don't get the result you like the first time, you can try different ones. The Global mode looks at the overall image while the Local mode uses nearby pixels to calculate a background fill. The Clone tool helps to remove leftover artifacts from the frame for a pristine composition.
FX Photo Studio
Special effects are not mandatory for photo editing, and many photographers eschew them altogether.
Taking an image into FX Photo Studio special effects app can give your run-of-the-mill picture much-needed drama—Instagram gone wild. There's nothing remotely complex about the app: It provides 20 categories of effects from Art to Color Lenses to Groovy Lo-Fi to Symmetry to Vintage.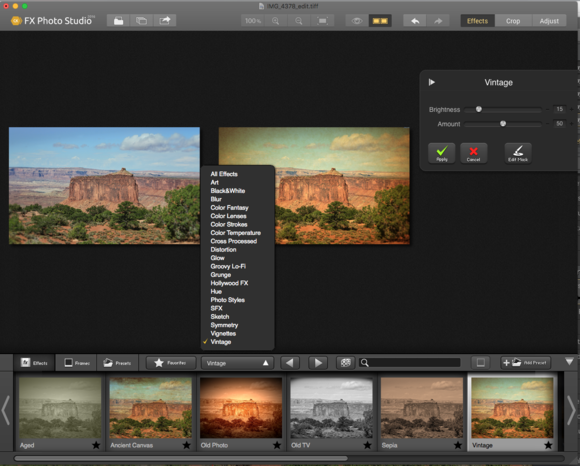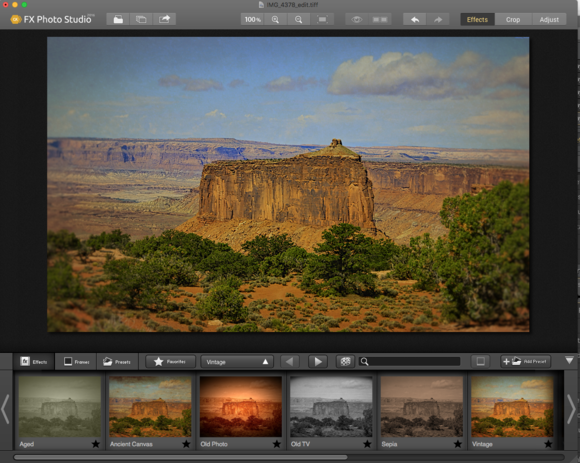 FX Photo Studio's special effects range from subtle to wild, so go crazy.
Just choose a category from the popup menu or set it to all effects and roll the dice (there's a dice icon) to see what you come up with. The app's controls include Effects, Crop and Adjust with familiar controls.
But you don't have to stop there: A large selection of frames round out the special effects.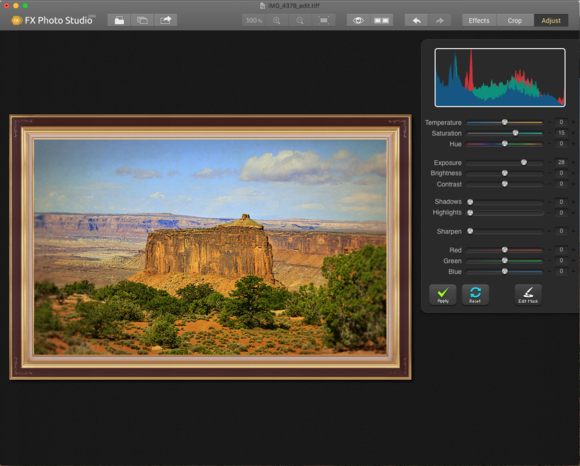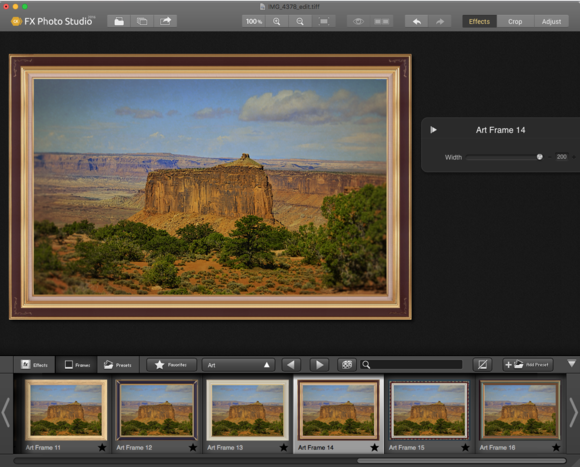 FX Photo Studio gives you a selection of frames in different categories.
Tonality CK
Ansel Adams is arguably the most famous landscape photographer that ever lived because of his haunting black and white images of the American West. Anyone who ever loaded a camera with Kodak's Tri-X or Panatomic-X film probably envisioned emulating perhaps a small sliver of what Adams was able to capture. Macphun's Tonality CK can help recreate that drama for your landscapes and portraits.
Tonality's features plunge deeply into monochromatic subtleties. Like the other CK apps, Tonality lets you begin with some 150 presets, some actually created by photographers: Basic, Architecture, Portrait, Dramatic, Outdoor, Street, Vintage, Film Emulation, Toning, and HDR.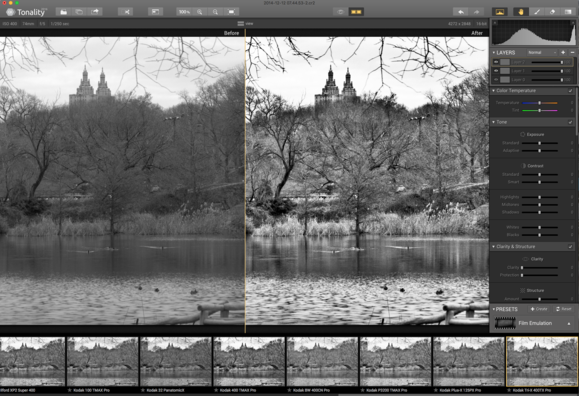 Tonality Raw landscape with Tri-X film effect.
And as with the other CK apps, these presets may be all you need, though the layer-based interface offers additional options.
Previous Page 1 2 3 4 5 Next Page