Macphun Creative Kit 2016 review: Critical photo editing functions delivered in one diverse app
With Creative Kit, Macphun wants to pick up where Apple's now-defunct Aperture left off.
App performance, on the whole, is swift on my 2013 MacBook Air. Preset changes appeared instantaneously, for the most part. However, if you use the grabber hand to change the position of an image on screen, the app will often take a few seconds to rescan the entire image in order to register the details, which can get tedious.
Intensify CK
Photoshop has a variety of sharpen tools (including my favorite, Smart Sharpen), but Intensify CK has so much more for achieving precise control over contrast, structure, detail and sharpening across different tonal ranges—in one click—that there's no comparison.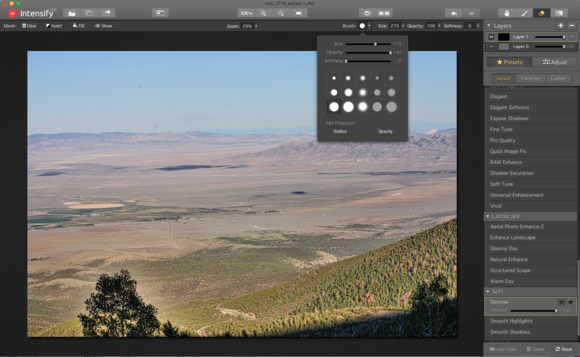 Adjustable round brushes let you paint edits on to different areas of your image.
Seven categories of presets—Architecture, Black & White, Creative, Detail Enhancement, Landscape, and Soft—which also feature up to 14 specific presets each, give you a head-spinning array of sharpening options.
Slider adjustments and layered effects help you avoid that pixelated over-sharpened look while at the same time focusing your concentration on specific areas of the image with layers and masks.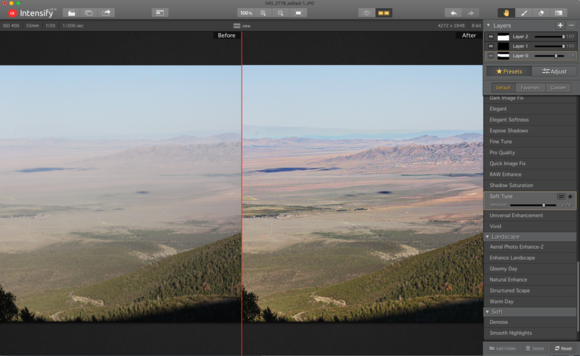 Intensify before and after preview.
Intensify CK's adjustment panel offers eight categories with an assortment of slider-based fine-tuning tools.
Don't rely on the names of the adjustments, as it's difficult to determine their exact effect. Just click through all of them—previews are very quick—to determine how to proceed.
You don't have to stick to the presets that come with the program, you can also create your own. Save Favorites and Custom presets right in the interface for easy reach. The app's layers feature lets you combine and brush in presets. Switch layers on and off to see the effects in action.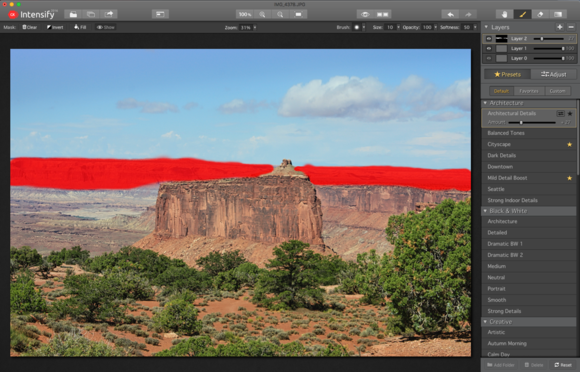 Masking tools and layers let you paint in effects to specific parts of your image to avoid oversharpening.
The adjustable brush works well, but it would also be nice to have different brush shapes in addition to round.
Snapheal CK
If you're familiar with Adobe Photoshop's content aware fill feature, then you get the point of Snapheal. Its proprietary algorithm helps you remove offensive or extraneous objects or people from your photos and analyze the surrounding context to "fill in" what is "behind" the removed item.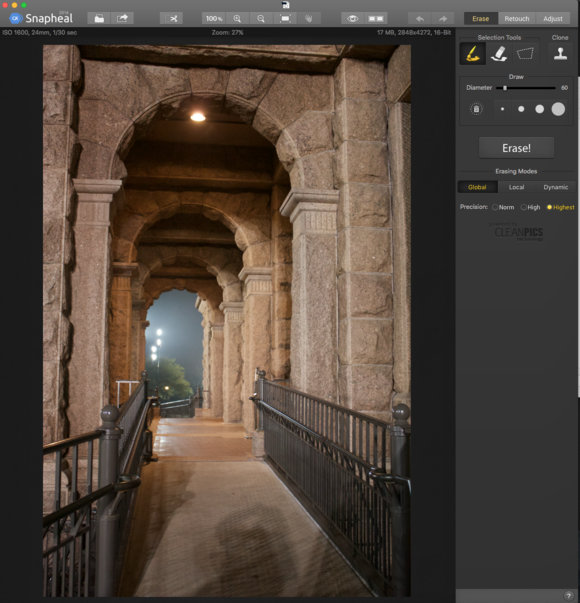 This shot—taken around midnight—has deep shadows, including the one in the middle of me taking the photo. Not pretty.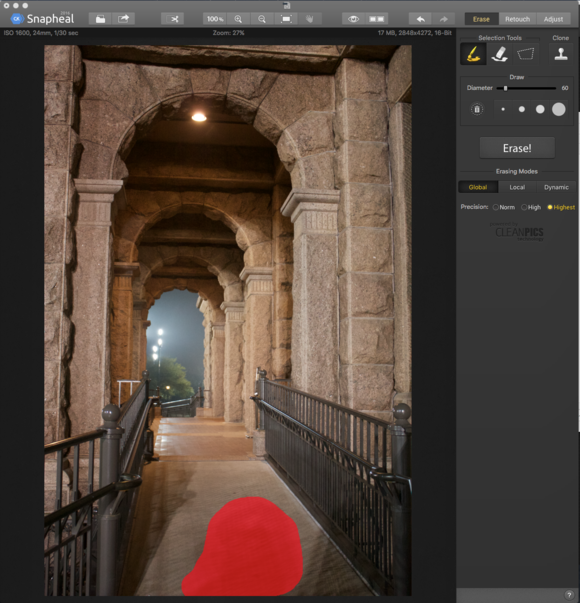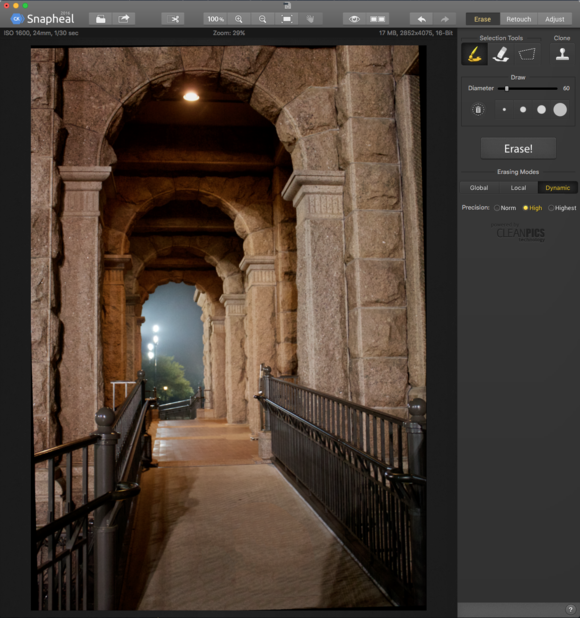 I used Snapheal to erase my own shadow from the shot while retaining all the natural shadows.
Previous Page 1 2 3 4 5 Next Page