MacKeeper buyers ask for refunds in droves following lawsuit
The number of claimants has surprised even experienced class-action attorneys.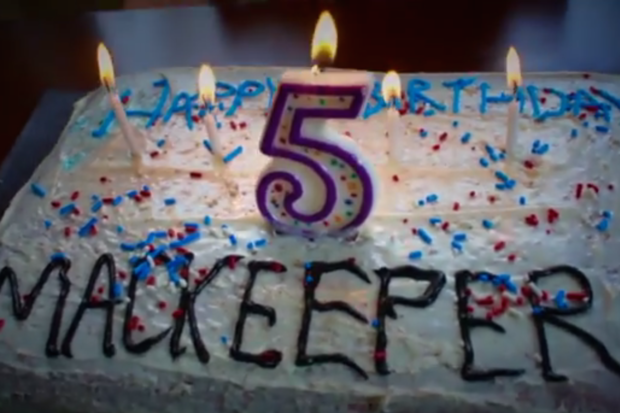 MacKeeper celebrated its fifth birthday in April, but the security and performance application has been dogged by accusations it exaggerates threats to complete a sale. Credit: YouTube
Tens of thousands of people who bought MacKeeper have filed for refunds as part of a proposed class-action settlement against the application's former developer.
The number of refund requests has far exceeded what is typical in these type of lawsuits, surprising even experienced class-action lawyers.
But the unfortunate side effect of the robust response means those who've applied will probably get a smaller refund.
The class-action suit was filed in May 2014 on behalf of Pennsylvania resident Holly Yencha, who contended that MacKeeper falsely flagged security and performance problems in order to coax consumers into paying US$39.95 for the full version.
MacKeeper has been dogged for years by accusations it is so-called scareware, a term for applications that use intimidating warnings to get consumers to buy the program.
The lawsuit was filed against ZeoBIT, a company started in Ukraine that originally developed MacKeeper.
ZeoBIT no longer owns MacKeeper and sold it in April 2013 to Kromtech Alliance Corp. of Cologne, Germany. Kromtech, which is not a party in the lawsuit, says it has undertaken efforts to rehabilitate MacKeeper and address some of the longstanding criticisms of the program.
ZeoBIT proposed to settle the lawsuit for $2 million rather than go to trial. About one-third of that money will go to the plaintiff's attorneys, with about $1.25 million going into a settlement fund.
Judge Joy Flowers Conti of the federal district court for western Pennsylvania gave the settlement her preliminary approval in July, but it has yet to earn final approval.
Since August, a court-appointed administrator has been contacting the 513,330 people who bought MacKeeper in the U.S. and are eligible for a refund.
As of Sept. 26, 78,652 claims have been filed. The claims still need to be verified, but the response rate far exceeds what is normal in class-action suits.
Rafey S. Balabanian, an attorney for the plaintiff with the law firm Edelson PC, told Judge Conti in April that claim rates for similar class-action suits usually range around just 1 percent to 2 percent.
So far, the MacKeeper claims amount to around 15 percent of those eligible, and claims can continue to be filed through Nov. 30 through this website.
Balabanian wrote in an Oct. 2 court filing that the claims rate in this case "is almost unprecedented in consumer class actions such as this."
There are some clues as to why the MacKeeper claim campaign has been so successful.
More than 90 percent of the email addresses used to contact MacKeeper purchasers were valid, according to Rust Consulting, the court's settlement administrator.