Kansas City rolls out online map using traffic, parking data from sensors
In demo, Alexa tells which buses in town are running late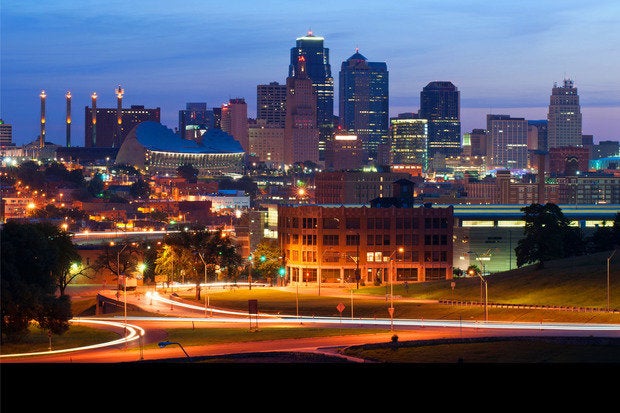 One of the trickiest parts of proving the value of emerging smart city technology is showing how city residents could benefit from data being picked up by sensors located on light poles and along streets.
On Tuesday, officials in Kansas City, Mo., took steps to connect how such real-time data gathered by sensors provides benefits to its citizens.
City officials unveiled an online interactive map for the public that shows available parking, traffic and KC Streetcar locations in real time with data gathered from 122 video sensors along a two-mile segment of Main Street in the downtown.
City of Kansas City, Mo.
Kansas City, Mo., launched an online, interactive map showing parking and traffic conditions based on real-time sensor data along a two-mile KC Streetcar route in the downtown area.
Also, at a press conference on the same day, a city contractor asked the Alexa voice service running on an Amazon Echo device which city's buses were running late. In the demonstration, Alexa was able to come back with an answer naming the top five late buses by correlating bus routes with an array of available data.
The new interactive map and the Alexa demonstration help show how Kansas City is realizing the promise of $15 million in smart city initiatives, which launched nine months ago along with the KC Streetcar, city officials said.
"Smart city sensors and digital tools are cool, but understanding how to use these tools and the data that they generate bridges the gap between cool and smart," Kansas City Mayor Sly James said at the event.
The city said its data from sensors will help the city run more efficiently. That data, plus free public Wi-Fi and interactive kiosks along the streetcar segment, make Kansas City the "most connected city in North America," the city claimed.
The interactive online map is operated by city contractor Xaqt, a Chicago-based company that provides integrated intelligence and collaboration tools for cities.
With the map, a user can see the location of streetcars as well as how many vehicles passed streetcars at each hour in the past 24 hours and their real-time speeds. Available street parking is also shown in green, and by clicking on a parking area icon, it is possible to see available spaces at that location.
Eventually, the city hopes to expand the use of sensors to other congested corridors. In the future, Alexa will be able to tell a user the location of the nearest free parking space and provide a daily forecast of public activities and meetings, said Bob Bennett, the city's chief innovation officer, in an interview.