Journaly review: A good Mac journal app that might be great one day
Journaly may not be feature-packed, but it shows a lot of potential.
Writer's blocks
Journaly does a fine job with organizing your completed entries, which are arranged in a neat row with visible timestamps and pictures. If you can't find what you're looking for by scrolling, a live search bar will retrieve it in an instant. There's also iCloud sync support (though without an iOS companion, it's really only useful if you have two Macs), optional password protection and data exporting.
If it seems like there's an overabundance of criticism about Journaly, it's mainly because of how much better it should be for its cost. It's a fun, unique take on journaling, but a $20 price tag (at the time of this writing, there's a introductory 25 percent off deal, which makes the app $15) comes with certain expectations. While Journaly mostly meets them where it counts, there's a constant sense that it's not quite all it could be.
Take this example: Each time you write an entry you'll need to press the save button when finished, and if you don't, a dialogue box will warn you that your work will be deleted, without actually offering an option to save it. Like many of the quibbles here, it's not so much a nuisance as it is a wrinkle that diminishes the experience and distracts too much from the things it does well.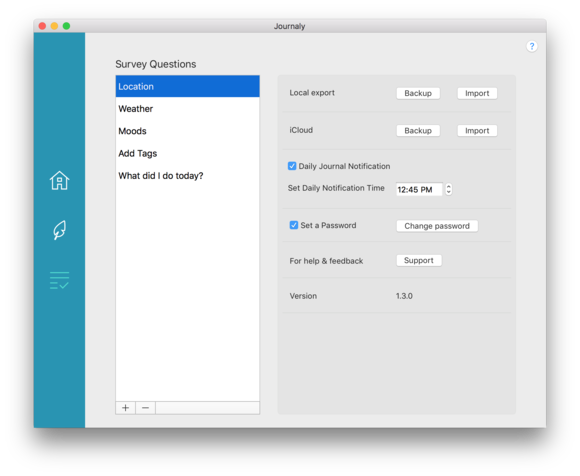 You can't change the font or theme, but Journaly's settings let you back up and secure your private thoughts.
Bottom line
Journaly has a good concept and design, but its price doesn't always jibe with its performance.