iTunes U: Free education to make you smarter
Apple's learning center is filled with free content to expand your mind.
iTunes U content comes in several types. There are audio and video lectures, but there may also be PDFs or ePub files. (For example, Oxford University provides all of William Shakespeare's plays, from the First Folio edition, in ePub format in original spelling as a course.)
You can view videos or listen to audio lectures directly by clicking on a link on a course page, or download the content by clicking Subscribe. If you do this, the first item in the course will download, and you can get the other available files from the My iTunes U section of iTunes. Click Old Materials, at the top right of the iTunes Window, and then Add All to download everything, or click the cloud icon next to in item to download just that one file.
There are several options for managing how iTunes gets new content. Select a course in My iTunes U, then click the Settings button. You can choose settings for the specific course, and if you click Defaults, you can also choose more general settings.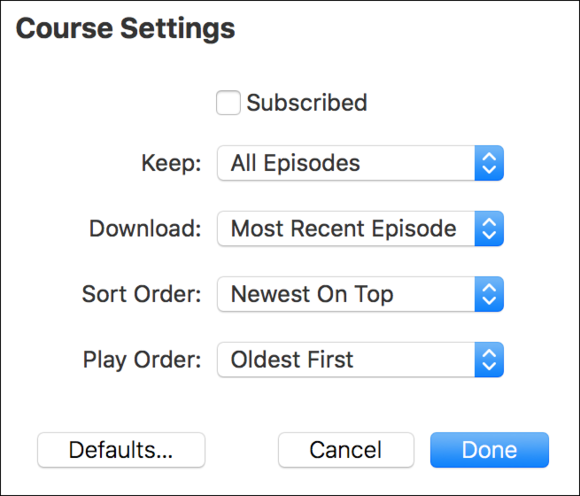 iTunes U Settings let you choose what what the app does when new content is available and how long to keep it.
Managing your iTunes U content is very similar to the way you work with podcasts. This content shows up in its own library in the iTunes Media Picker, and you can sync it to your the iTunes U app on your iOS device, controlling syncing options from the iTunes U tab when that device is connected. You can also download and view content directly to the iTunes U app.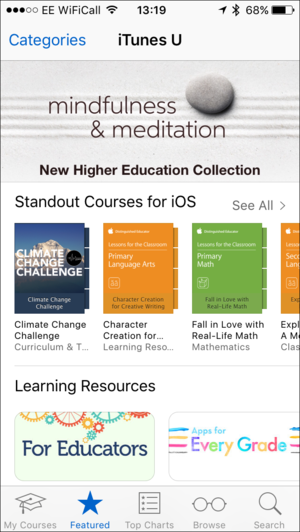 You can access iTunes U content on any iOS device using the iTunes U app.
By default, iTunes checks for new iTunes U content every day, downloads only the most recent episode, and keeps all episodes. You may want to keep all episodes of most courses, but not of a specific lecture series that you have only a passing interest in following; you can make the change by changing the settings for a specific course.
Since iOS 9.3, Apple has added tools to iTunes U for teachers to easily create their own courses, manage homework and grades, and deliver lessons to students. This material is only distributed locally, within a specific school, and is not available on the iTunes Store.
iTunes U won't replace a college education, and you can't (yet) get a degree from it, but many universities use iTunes U to distribute content for actual courses that do offer degrees. If you're not a student, the ability to essentially audit thousands of courses for free is invaluable. And for anyone interested in learning, iTunes U provides content about just about every subject imaginable. Take advantage of iTunes U to broaden your horizons.